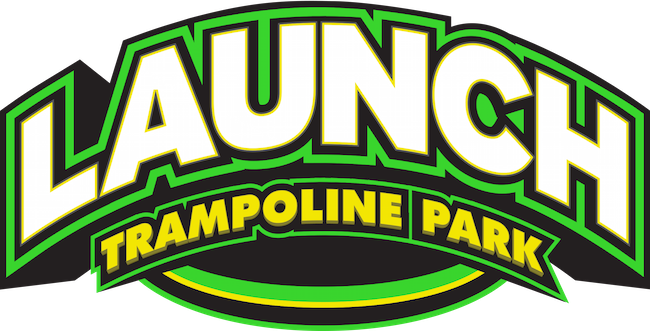 This was my first time doing a party at Launch Trampoline Park in Hartford, Connecticut and I
jumped right in to do my best to make it a fantastic party. We closed the park to the public
and had this fun venue to ourselves. The kids, of all ages, had a blast!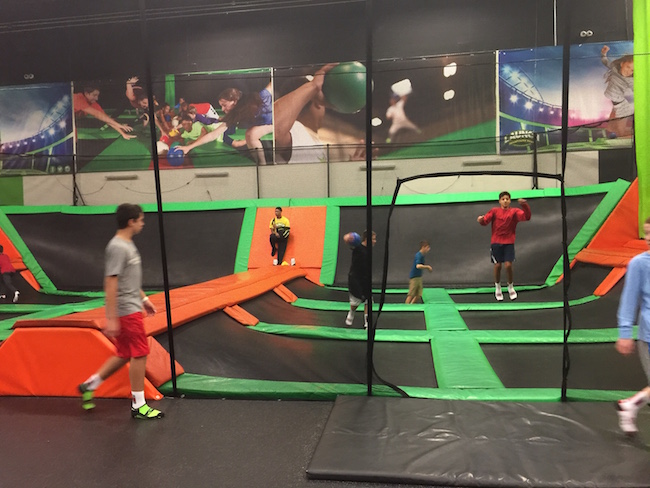 As guests began to bounce in they checked in with the Launch staff and got a wrist band.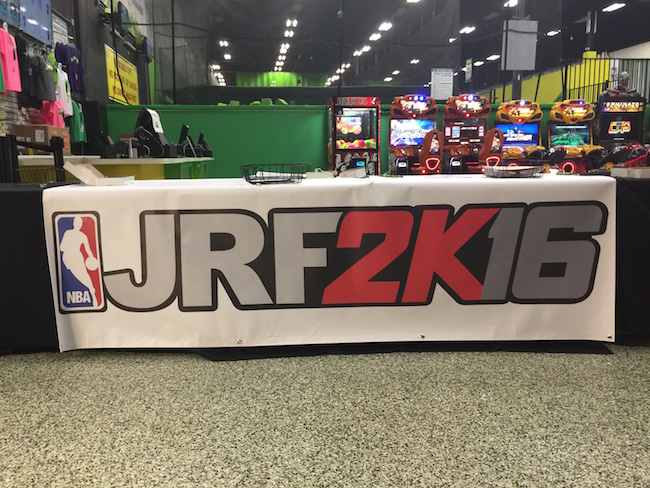 Since this was a trampoline park if you wanted to go jump you needed to take off your shoes.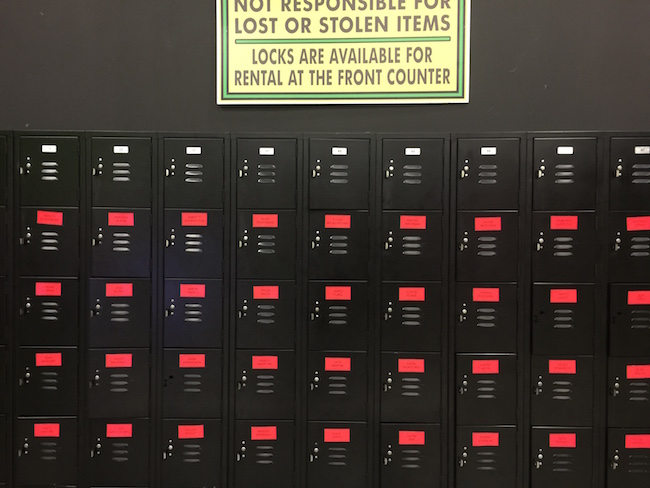 Each teen got a personalized locker, in which were a pair of logo'd socks were placed.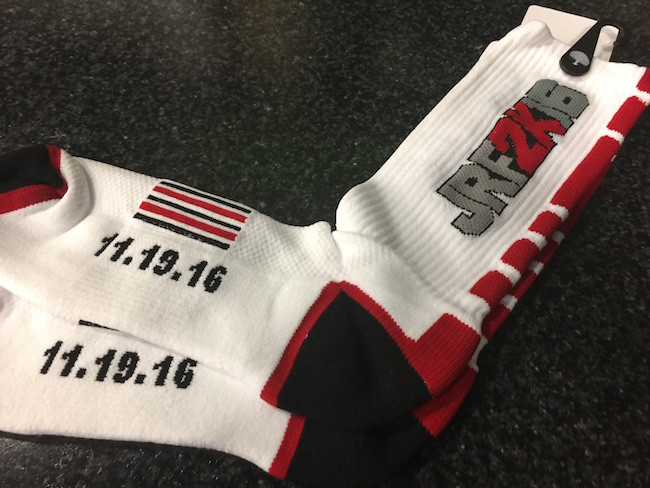 Also provided in the lockers were game cards so the guest of honor's friends could enjoy the arcade.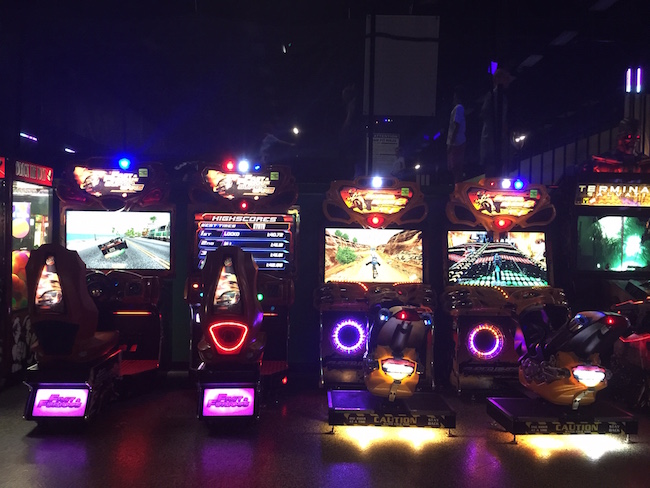 Everywhere you looked there was the Bar Mitzvah boy's logo. At the entrance door..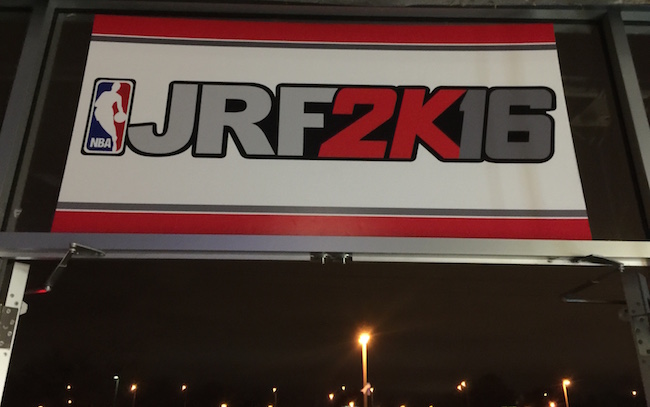 on the walls of the venue…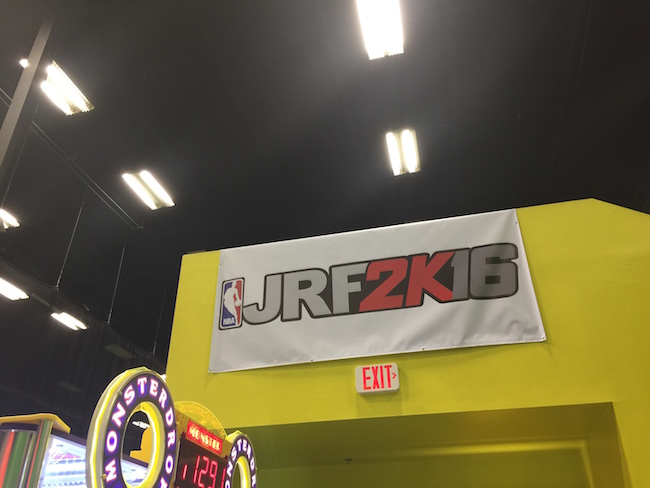 and even on the giant TVs around the space.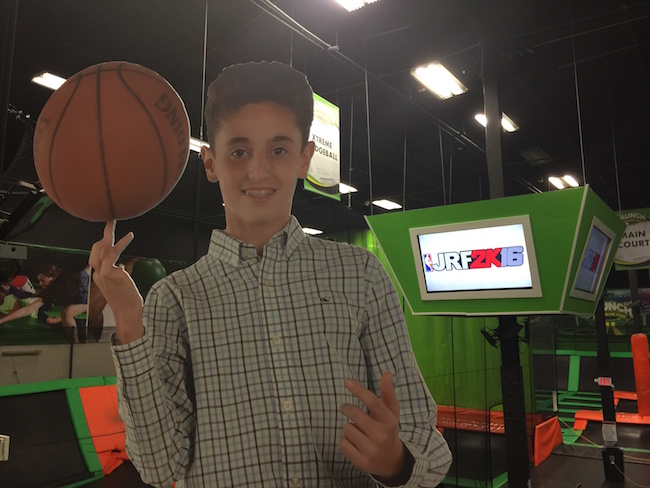 Leap on over to the food area and you were greeted by a 7-foot Jared spinning a basketball. Spring
back to the arcade and guests were welcomed by another 7-foot Jared in his funky bow-tie.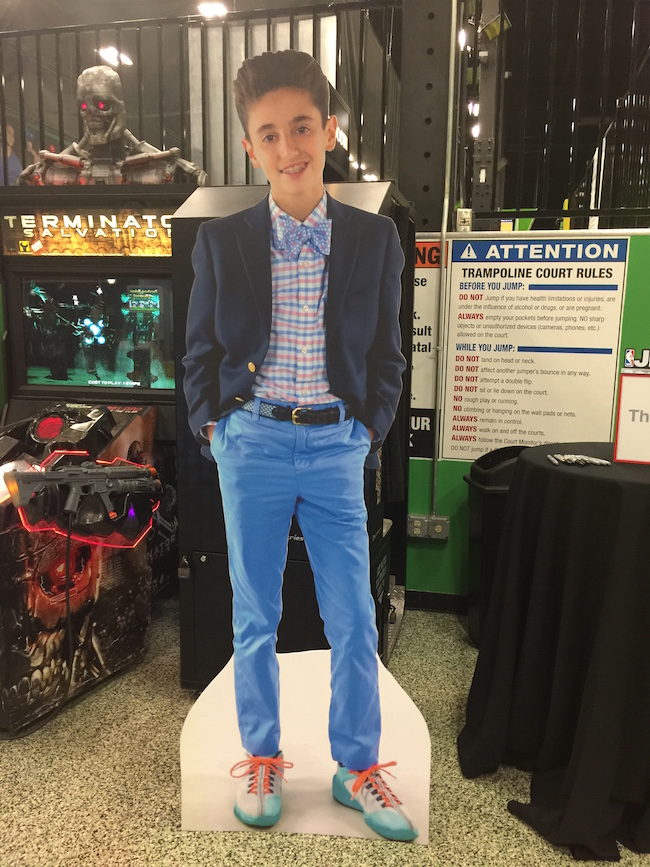 One cutout was used as a sign-in board and the guests sprung into action and signed their name
and left notes for the guest of honor. They even signed his face.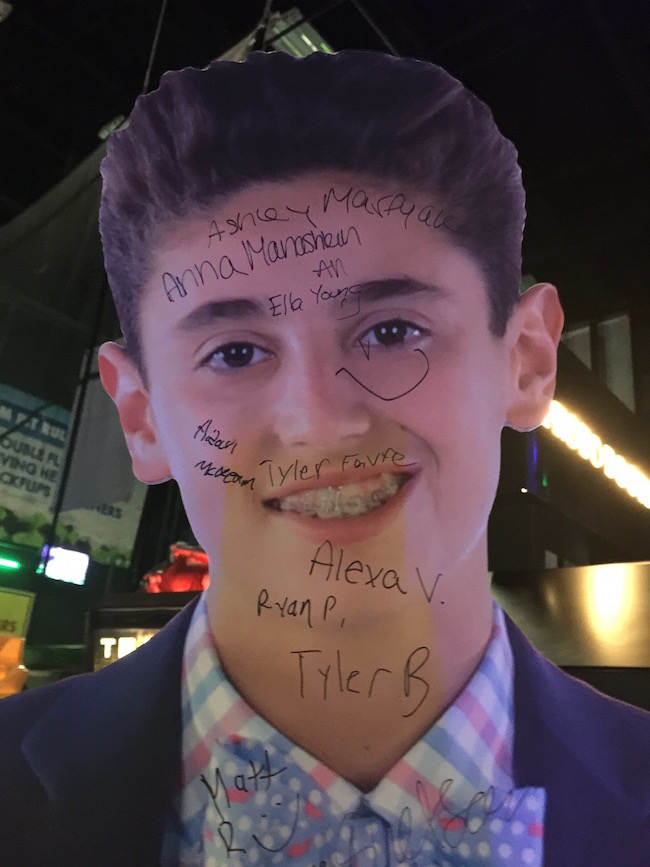 There was a special box to place envelopes for the Bar Mitzvah boy.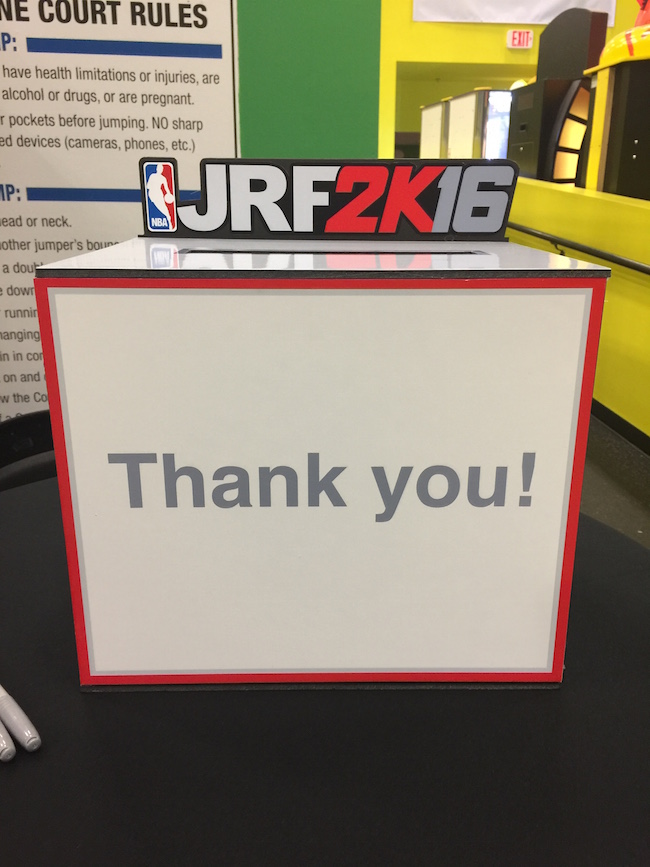 One very cool element about this venue besides it being a trampoline park was they had this
"lights out" effect which gave the feel of a downtown nightclub. Light-up centerpieces were the
perfect addition to the food area and looked really cool glowing on the tables while the lights
were out.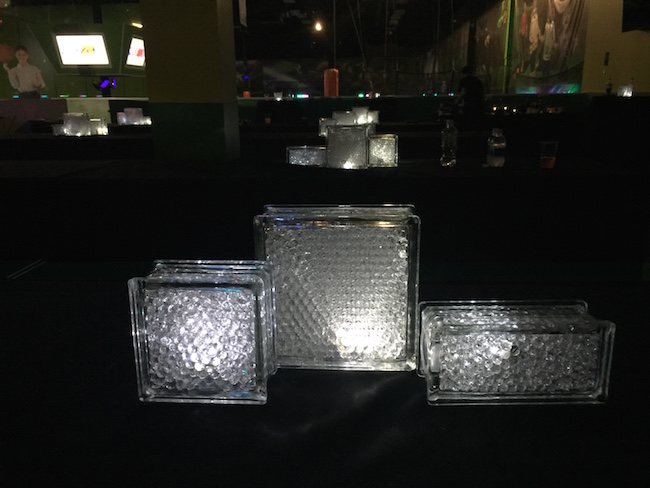 Boppers Events played music and led games to keep the party hopping.
Refreshments, by Max Catering Group, were available all night.
And there were easy to grab drinks for the trampoline-bouncing teens.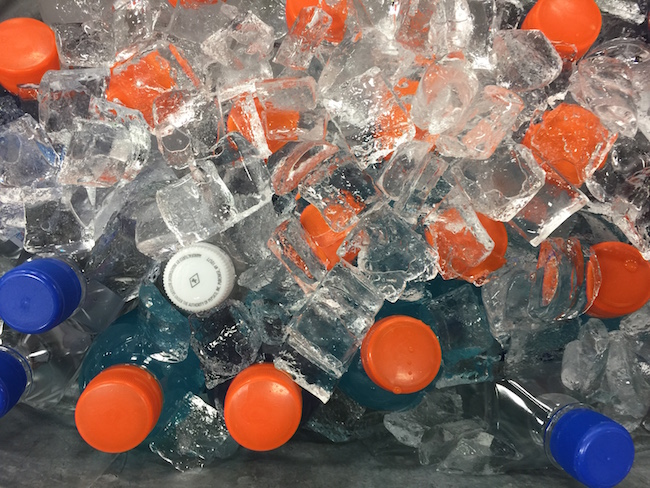 As Jared's friends left the party they received a parting gift…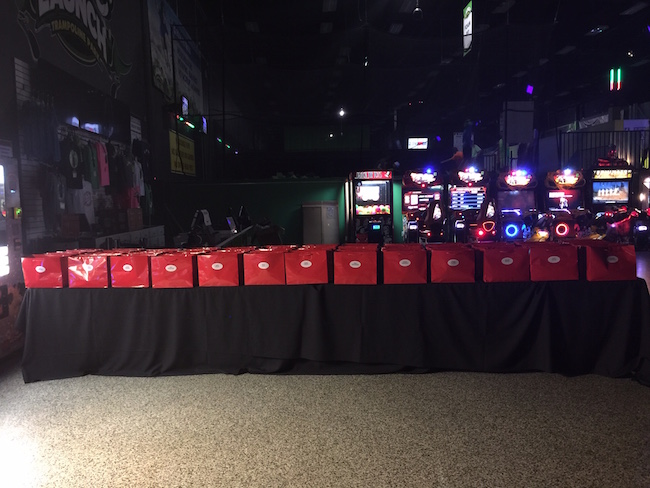 Sweatshirts with the logo on the front and on the back was written…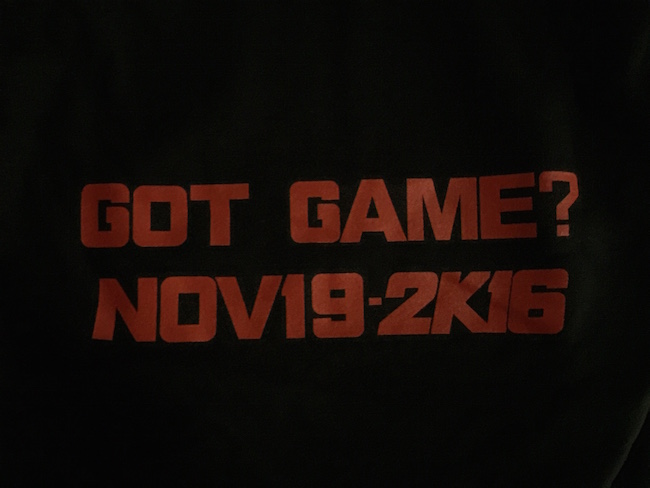 Congratulations Jared! I hope you enjoyed jumping around with your friends.
Easy! Done! Enjoy!
Plan-it Vicki is the brainchild of Vicki Ross, an experienced Event Planner located in Avon, a suburb of Hartford, Connecticut. Vicki has created wonderful celebrations all over Connecticut, New York, and Massachusetts. She and her staff provide services for small, intimate dinner parties as well as weddings, and bar and bat mitzvahs.
For help with your next event contact Plan-it Vicki