The setting was straight out of F. Scott Fitzgerald novel (not necessarily that one!) — part rustic rural, part nouveau chic. Sprinkle in perfect weather, a wonderful couple, some great food, and add a little Monty Python, and you get an amazing wedding ceremony and reception that we had the distinct honor to put together. Let's look back at Ariella and Jeremy's marvelous nuptials.
The ceremony was set amongst an outcropping of spectacular rock formations and native plantings on the grounds of the bride's parents' summer home on the Connecticut shoreline.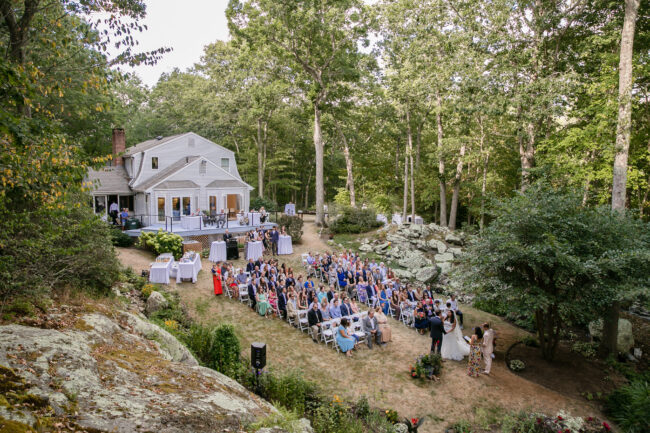 Aisle and personal florals were expertly prepared by the great Terri Krisavage.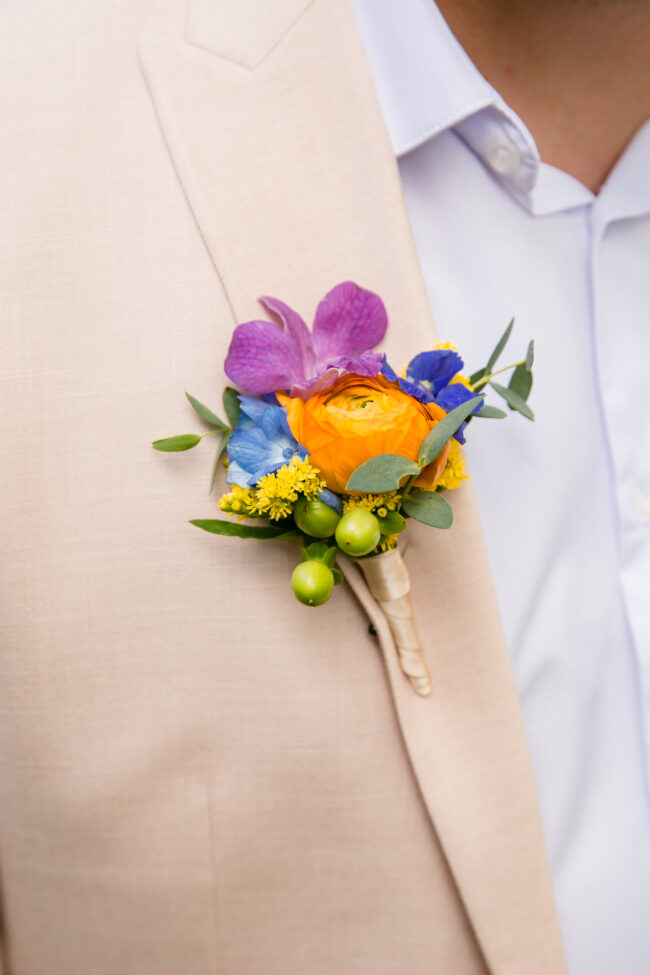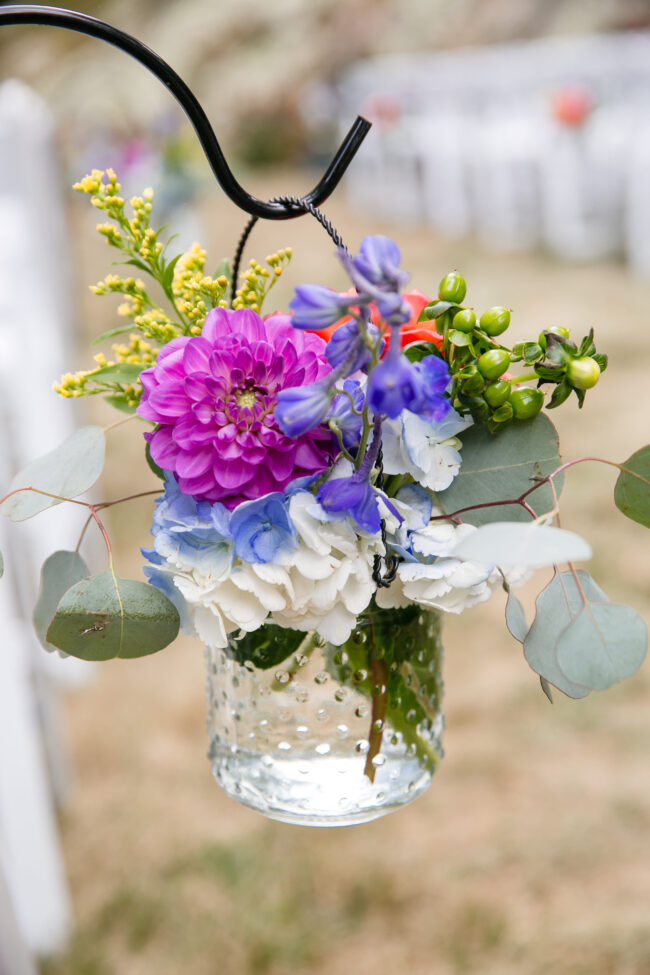 No stone was left unturned in preparing for the ceremony!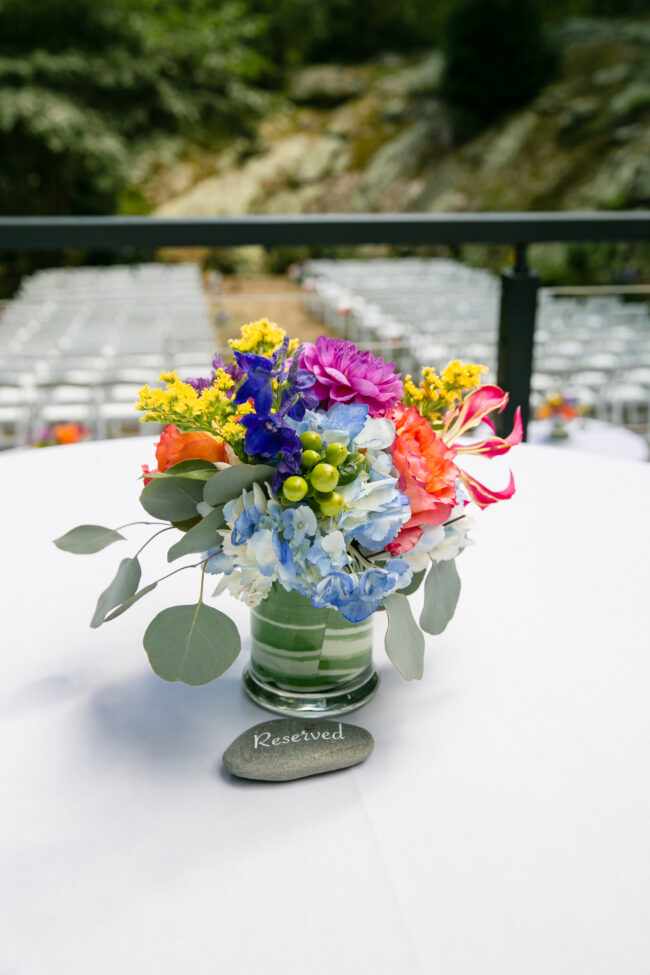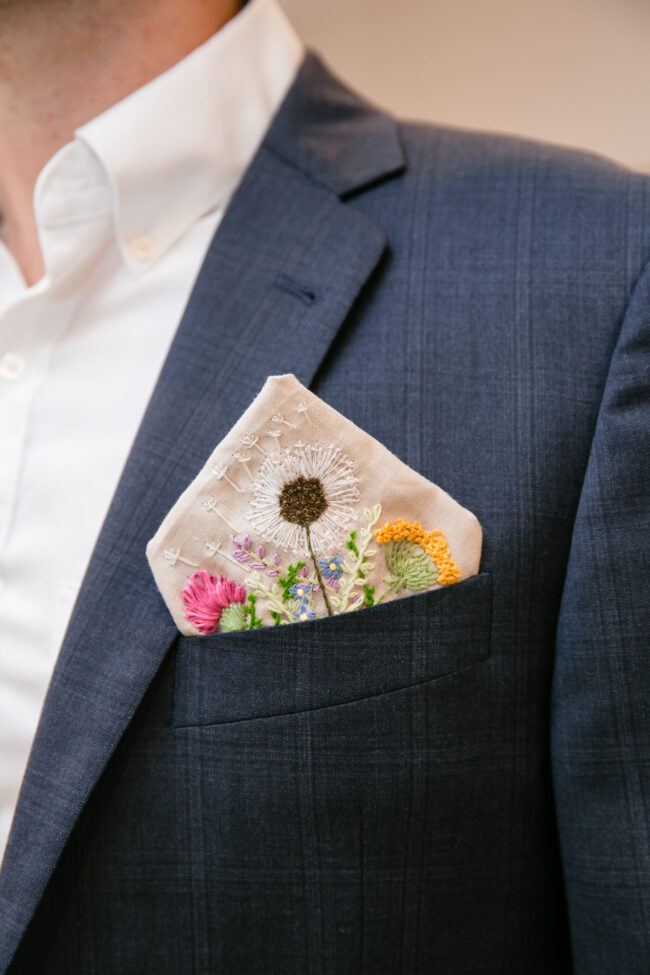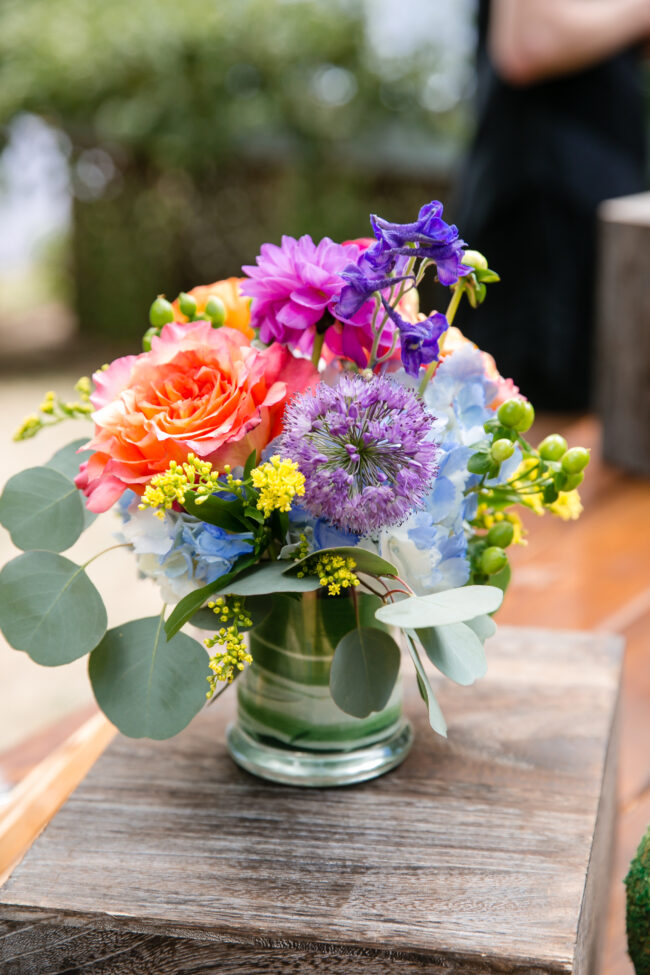 There were many twists along the way, but imagine the guests' surprise when the officiants, who just so happened to be the bride's sister and the groom's brother, galloped into position carrying coconuts, a la, Monty Python and the Holy Grail!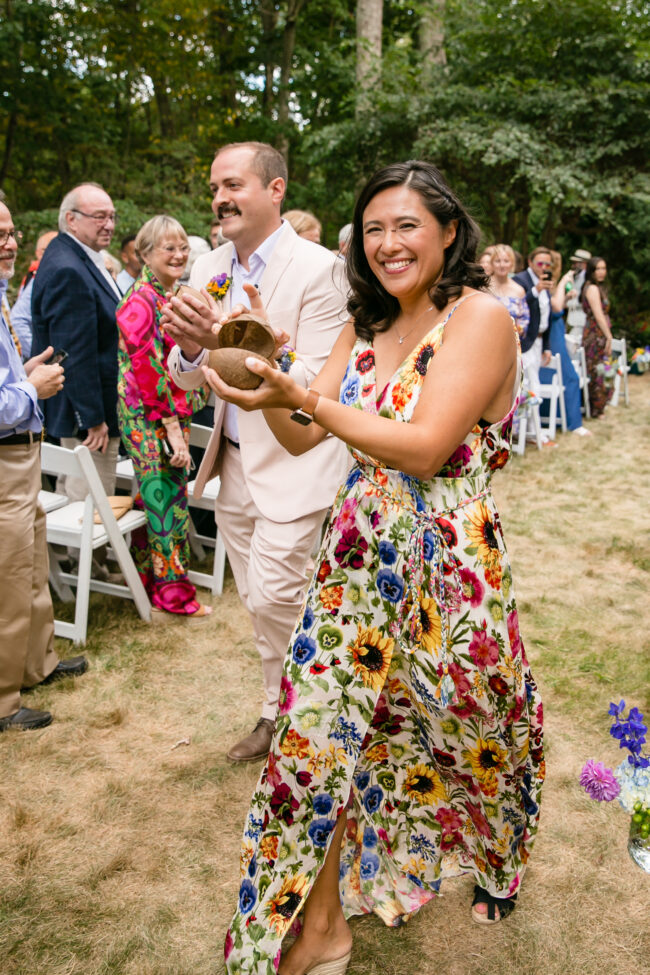 Even the groom got into the act!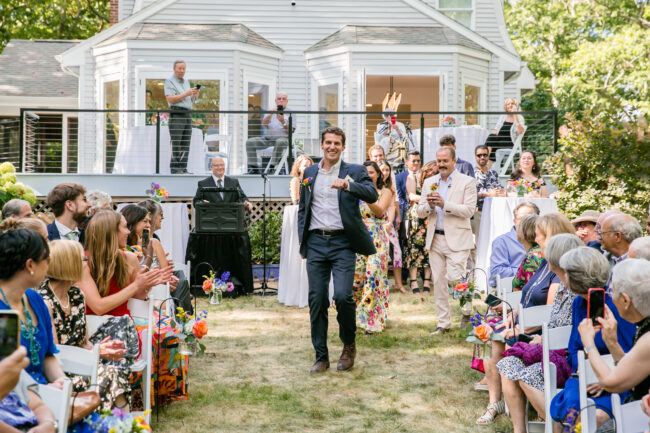 The remainder of the ceremony went off without a visit from the Knights Who Say Nee, and was sealed with a…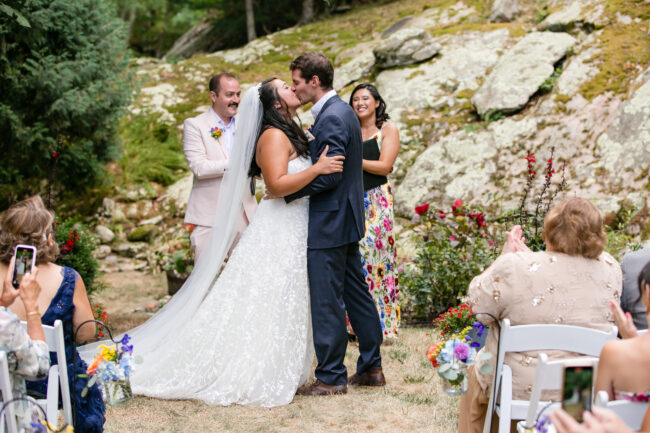 With the formalities out of the way, it was time to gallop into party mode.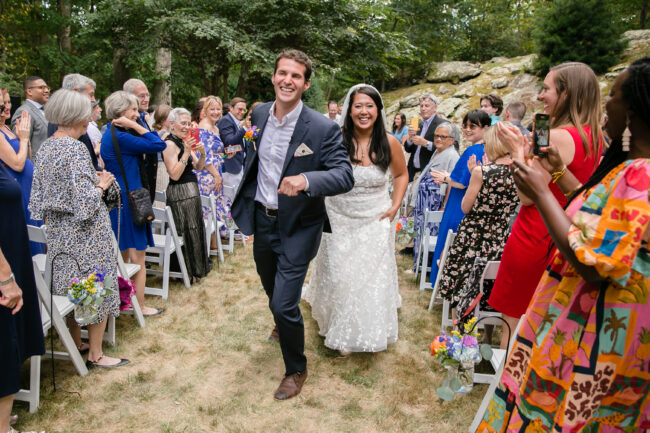 What New England wedding cocktail hour would be complete without a visit from the oyster shucker?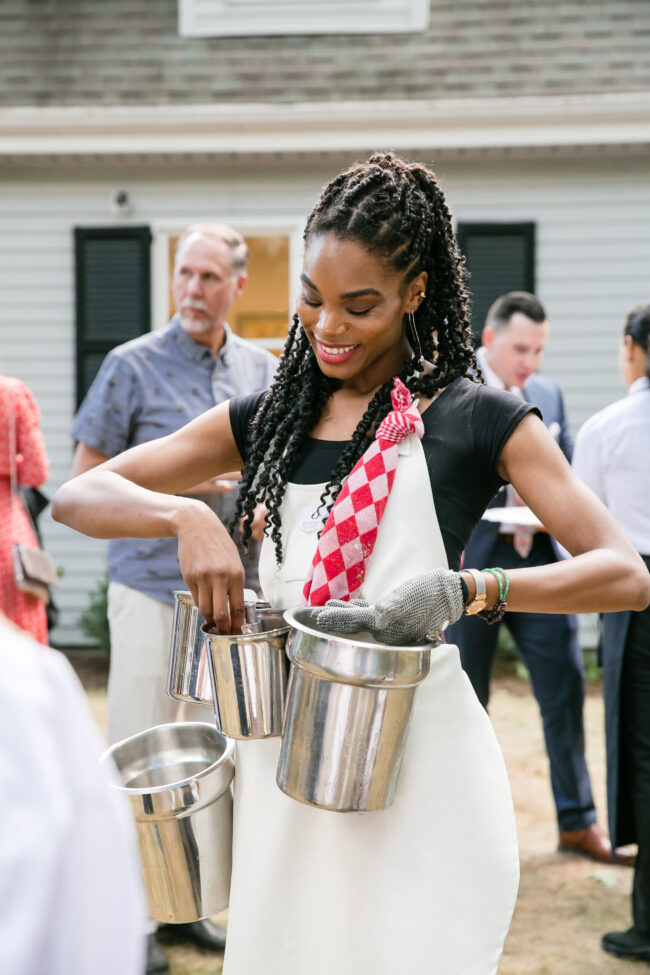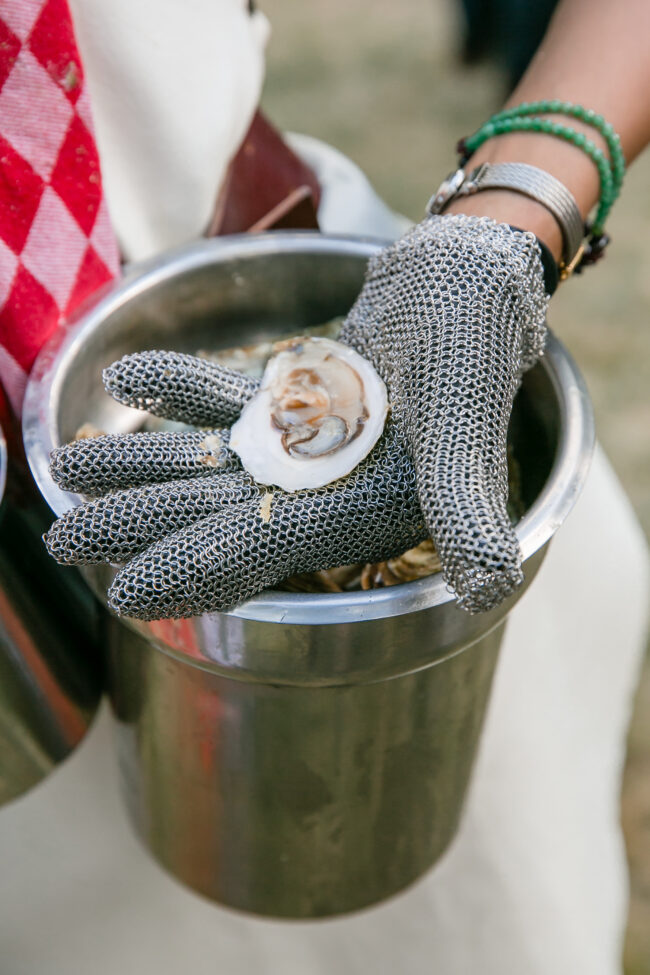 The Mollusks were just the tip of the iceberg when it came to food and drinks at this little shindig, as Marcia Selden Catering provided wonderful sustenance to all wedding guests.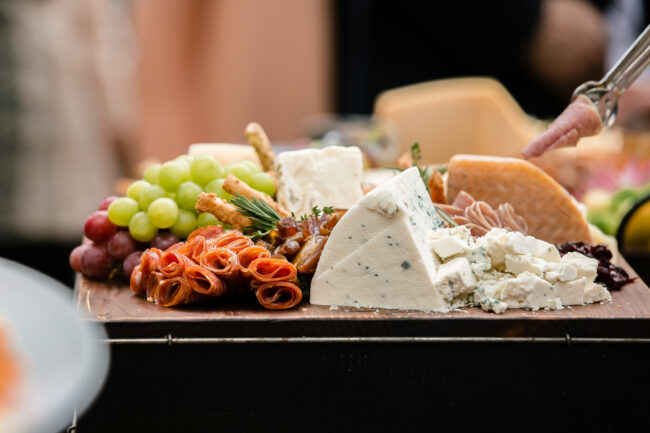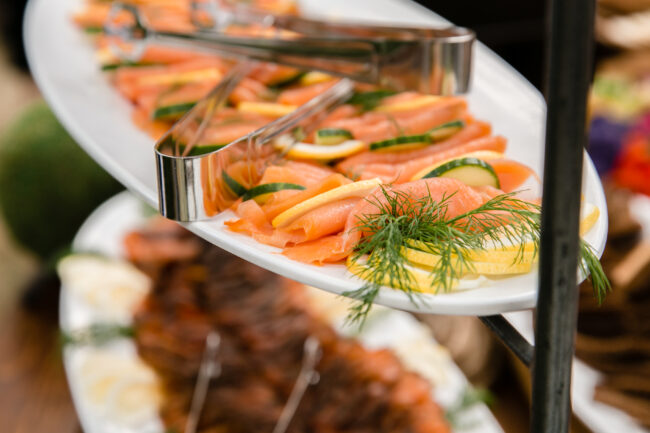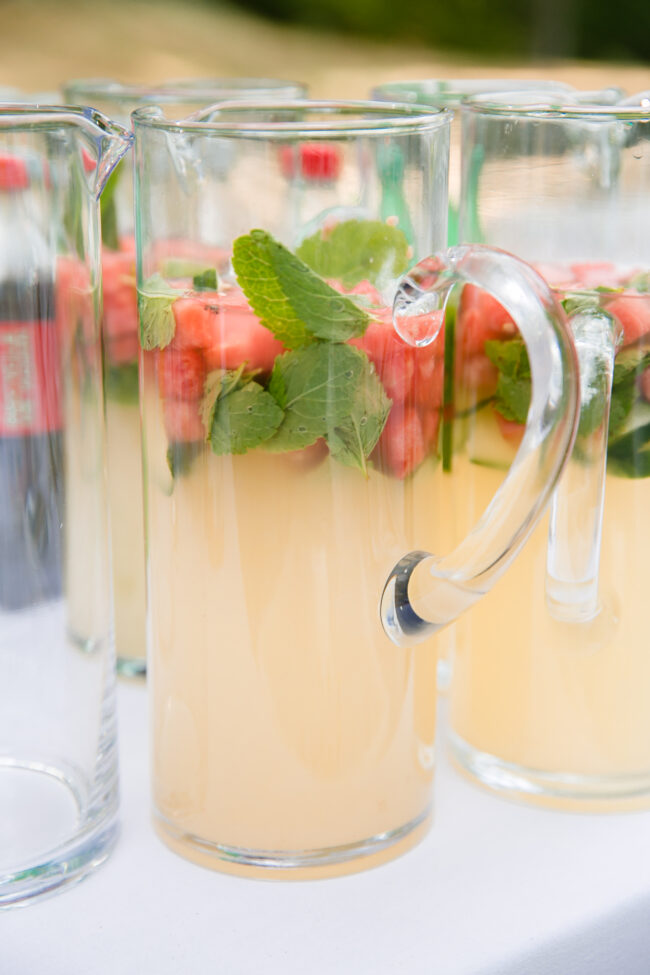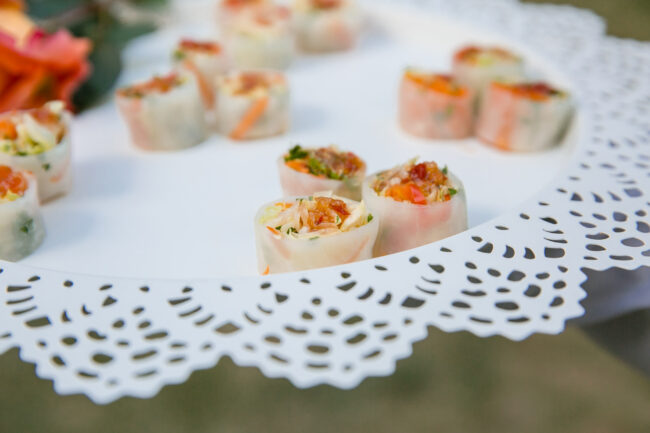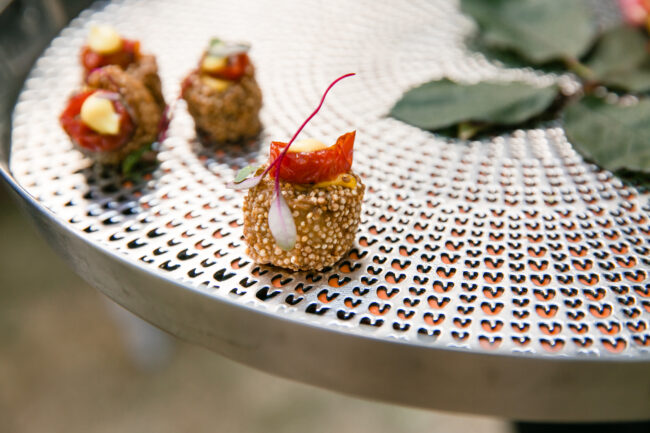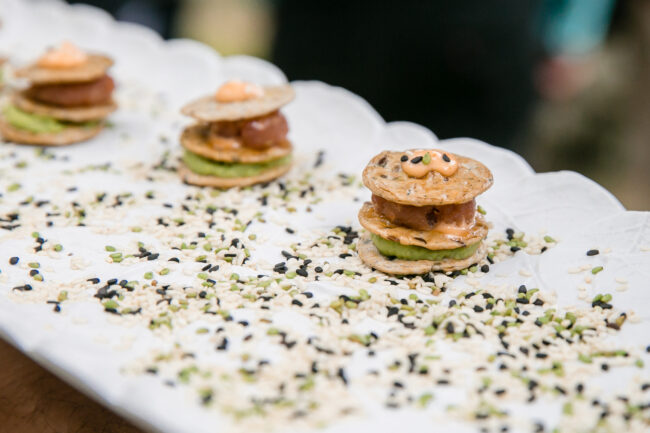 It's nice when the wedding planner matches the decor, but is matching the guests' wardrobe taking things too far?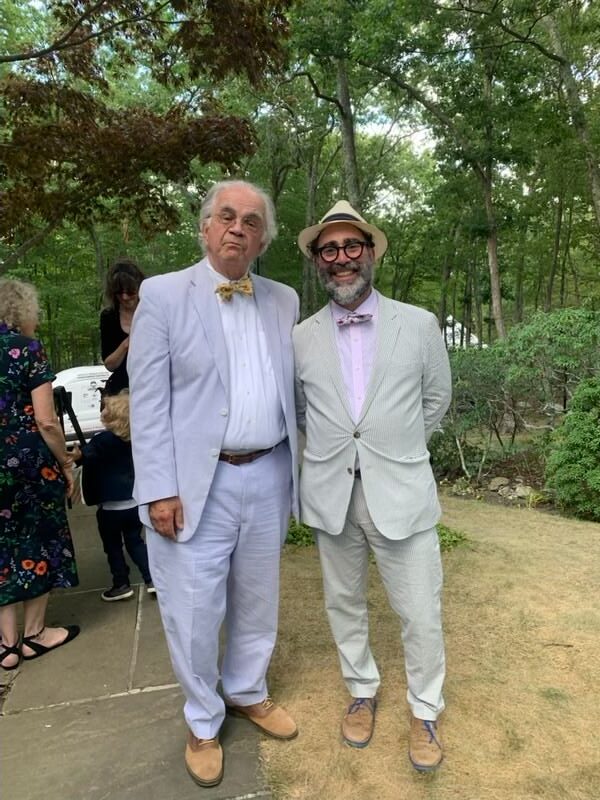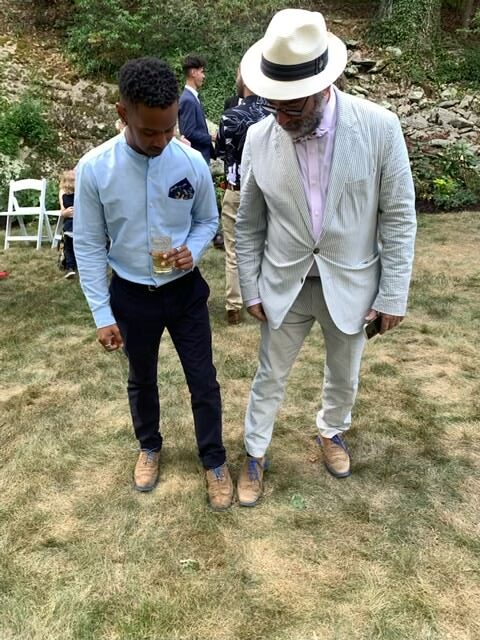 Sheer coincidence!
Onto the reception where guests found their table assignments on this spectacular hand-drawn mirror.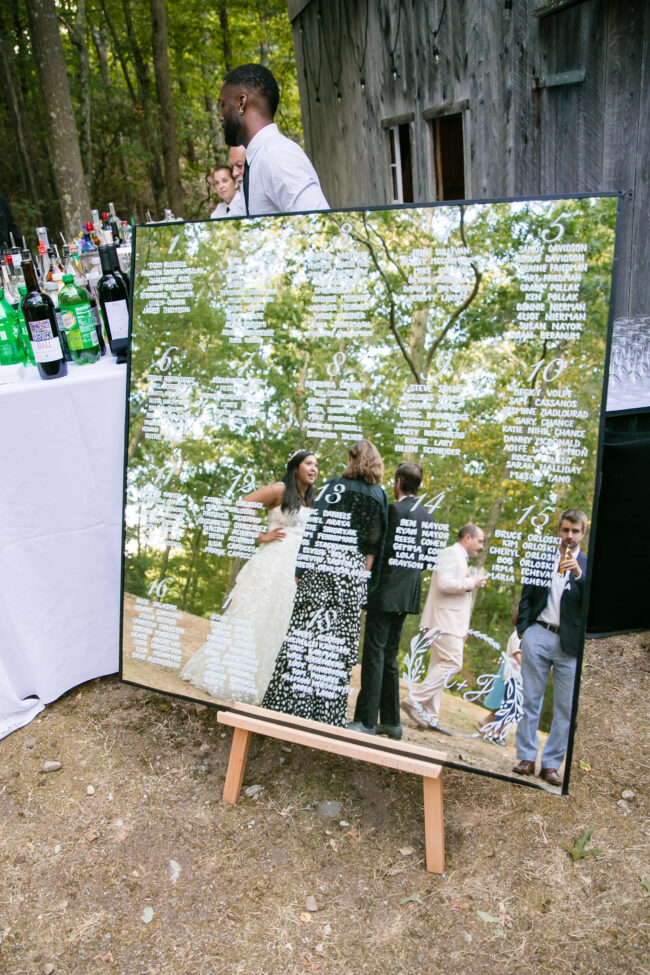 Take a picture, leave a picture so that the couple can look back on this wonderful day for years to come.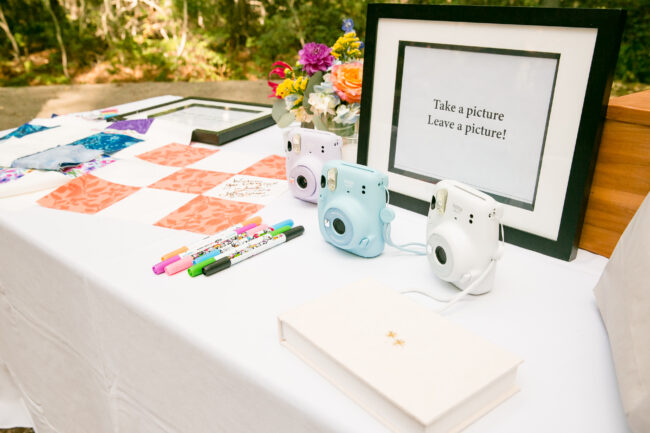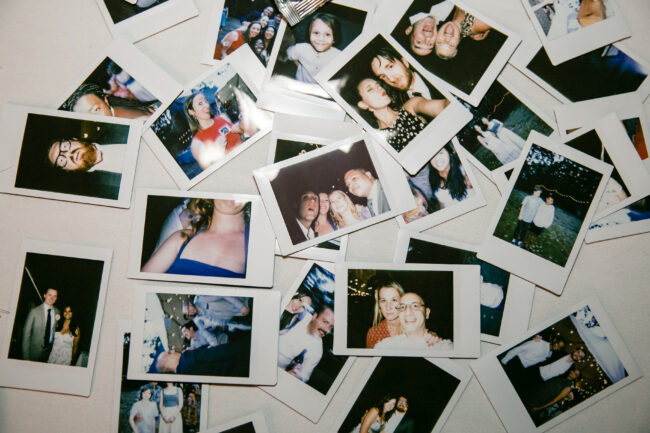 And while you're at it, sign a quilt square to be sewn together at a later date.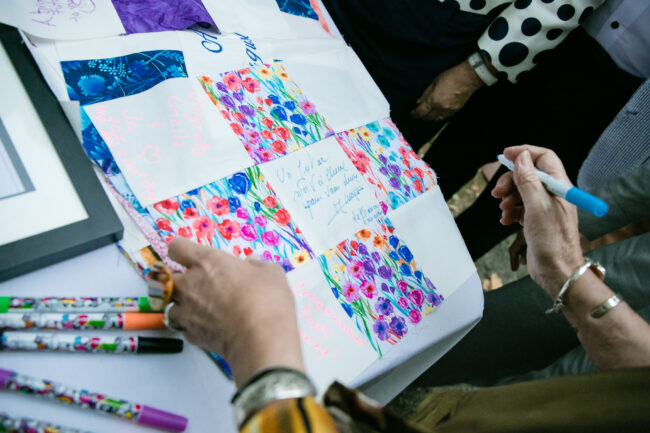 The reception tent, skillfully erected by WT Wedding Rentals, was decked out with all the bells and whistles you might expect for such a spectacular celebration, with beautiful table florals by Terri Krisavage.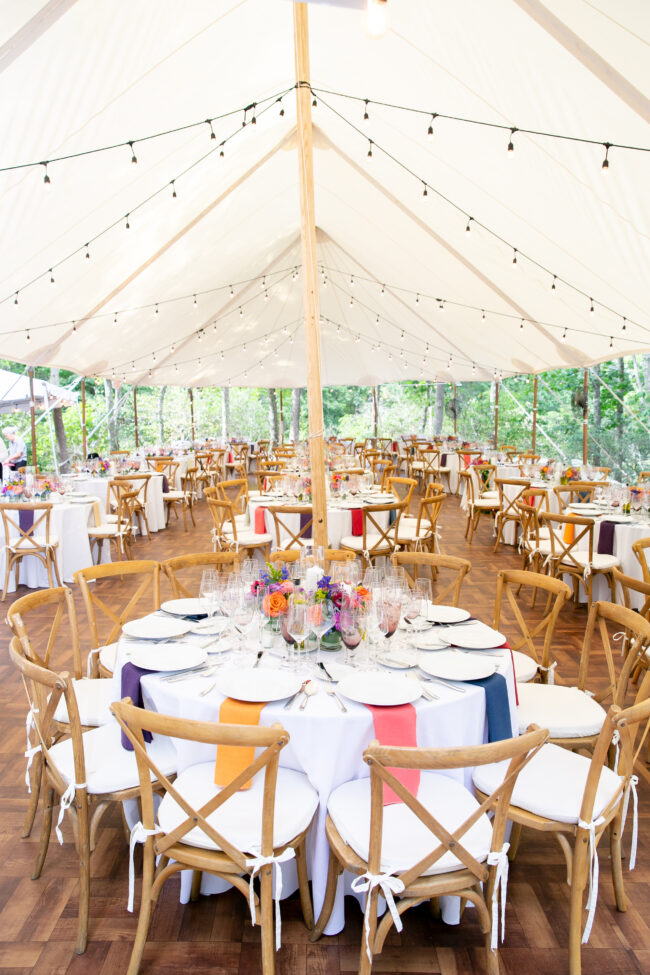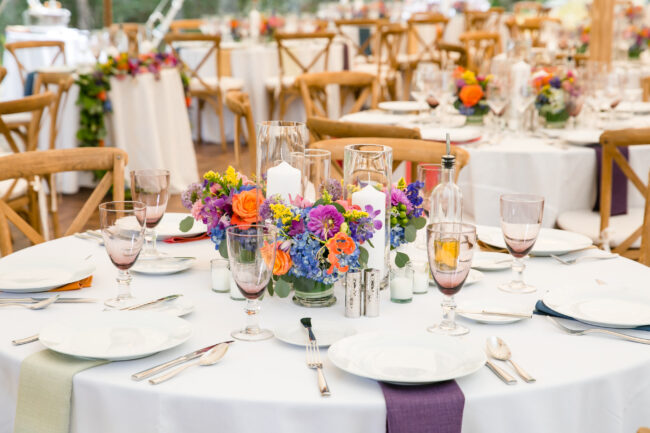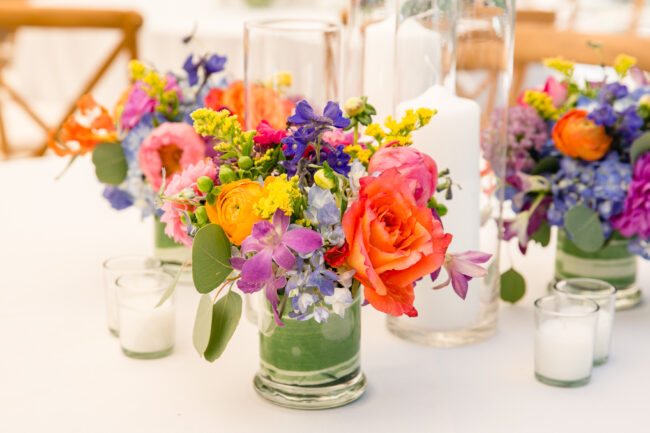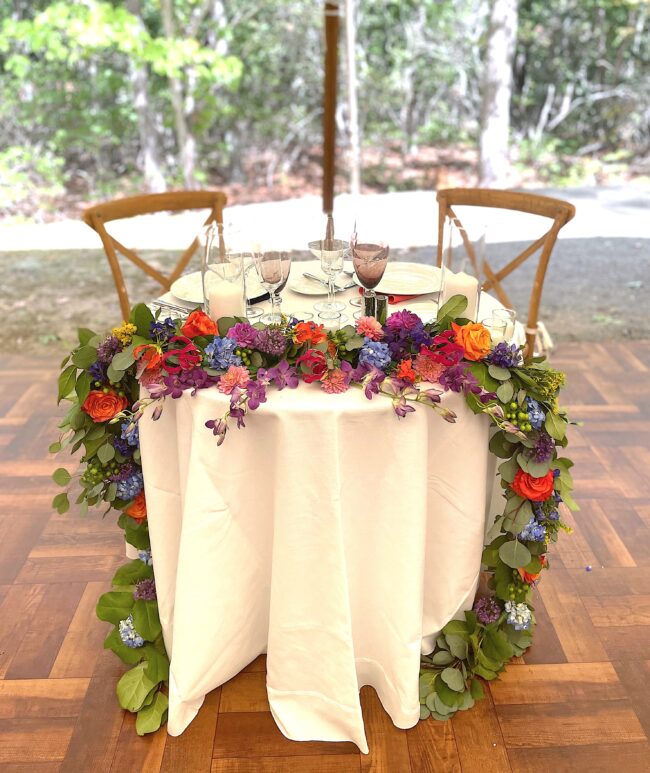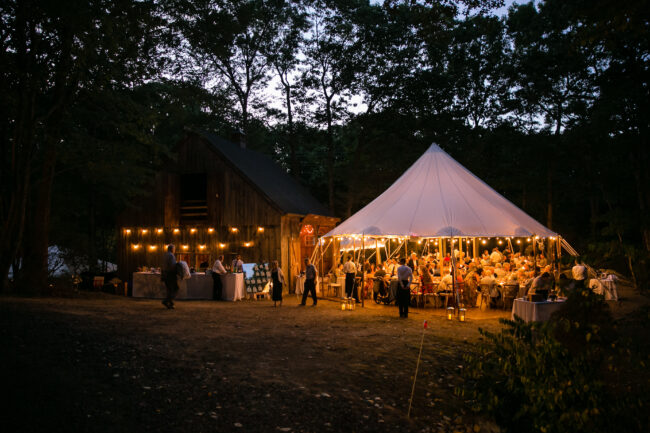 Now playing, the Steve Brothers Band, where the father of the bride got to serenade the happy couple in his own inimitable way.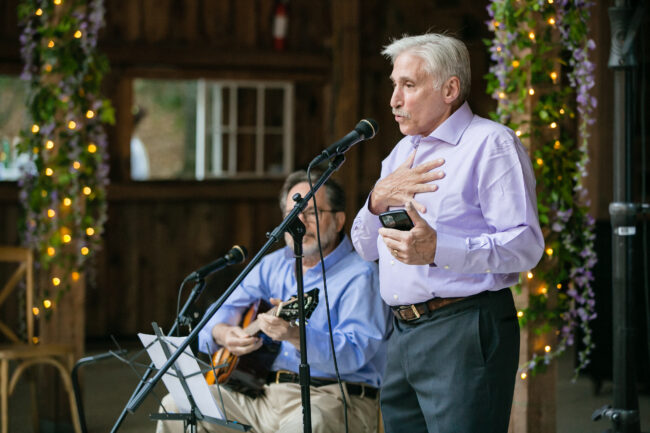 Did we mention the food? It was gorgeous, delicious, and plentiful — the holy trinity of wedding catering!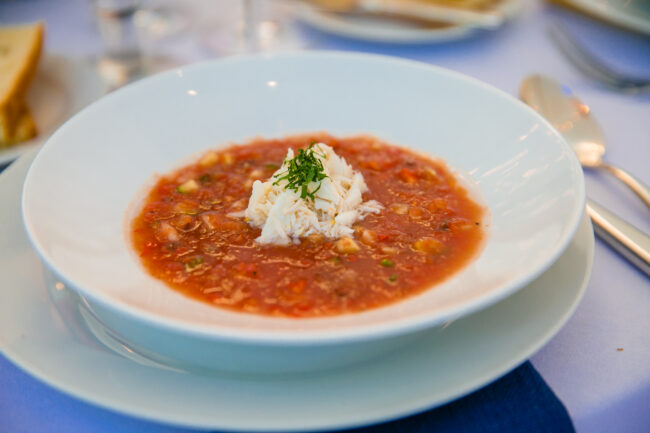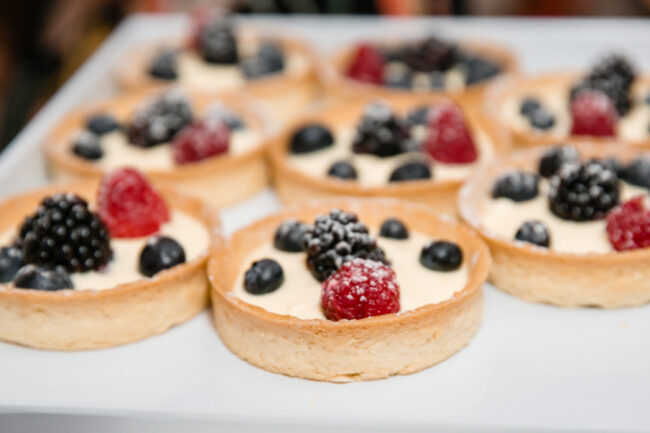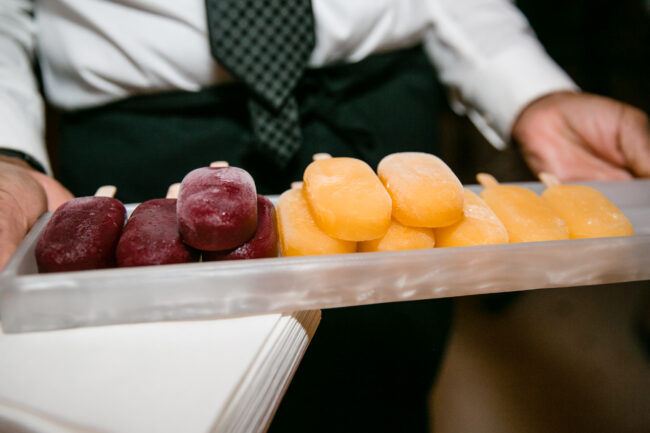 Cheers to Ariella & Jeremy…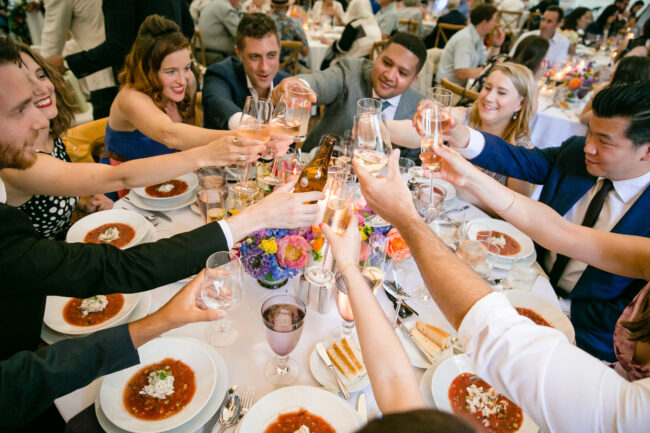 May you look back on this day with fond memories of the official start of the rest of your lives together!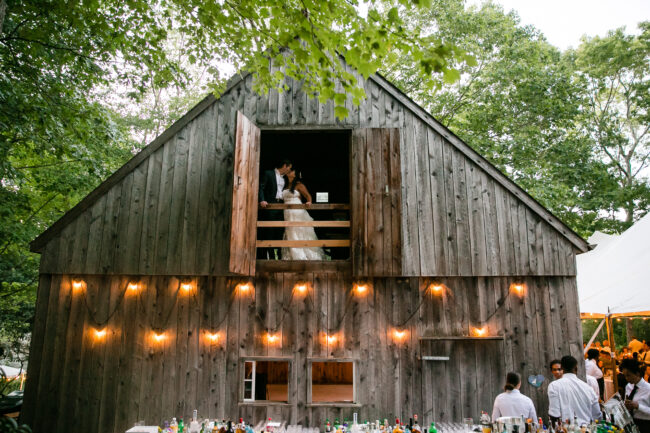 Easy! Done! Enjoy!
Plan-it Vicki is the brainchild of Vicki Ross, an experienced Event Planner located in Avon, a suburb of Hartford, Connecticut. Vicki has created wonderful celebrations all over Connecticut, New York, and Massachusetts. She and her staff provide services for small, intimate dinner parties as well as weddings, and bar and bat mitzvahs.
For help with your next event contact Plan-it Vicki