Looking to host the perfect Friendsgiving? Local experts share advice on how to plan, what to make and where to go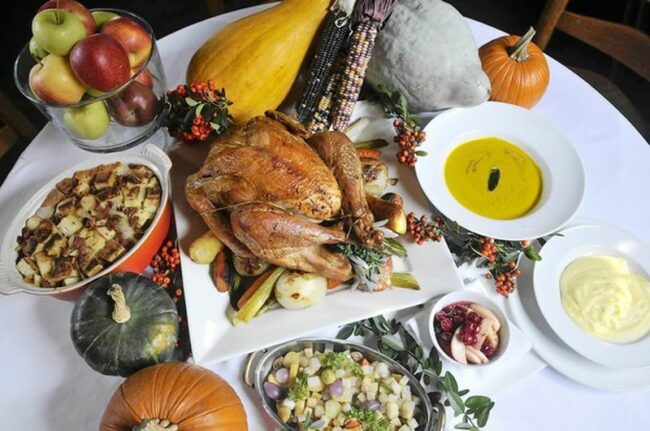 Ever wish you could take all the best parts of Thanksgiving and skip the family drama? Welcome to Friendsgiving.
The pseudo holiday may not have a date on the calendar, but it has become part of the holiday season for most young Americans, with seven out of 10 stating they prefer Friendsgiving to Thanksgiving, according to a new survey.
Regardless of why you celebrate Friendsgiving, the number one rule is to have fun with the family you've chosen. But, of course, with every holiday celebration comes a layer of stress. From location to food, planning the perfect Friendsgiving takes some effort.
Here are some tips from Connecticut-based chefs, Tyler Anderson and Kenneth "KC" Ward, and party planner, Vicki Ross, on how to throw a Friendsgiving party that'll be one for the books. Or, check out the list below of which local restaurants and breweries are hosting Friendsgiving events — so you don't have to.
Plan everything
Doing as much as possible before the big day is key to avoiding any last-minute stress. Ross, local party planner and owner of Plan-It Vicki, suggests making small lists for everything. Whether you're cooking or decorating, having a list will remind you of everything you'd like to do.
When it comes to Friendsgiving, it might be best to have a potluck-style dinner, Ross says. So divide the different dishes among your friends and add it to a shared Google Doc. Each guest can have a responsibility and you can gauge if anything might be missing.
Like what you see? You can sign up for The Thread's free, weekday newsletter here »
Since the celebration is centered on food, purchasing the necessary tools ahead of time is fundamental. With Amazon at our fingertips, Ward, co-owner of Flora in West Hartford and Rooster Co. in Newington, suggests using it to buy a knife sharpener and a probe thermometer.
Buying ingredients the day before or day of, might be cutting it close. So try to buy everything up to six days in advance.
"All the vegetables are very hearty and turkeys aren't going bad," says Anderson, owner of Millwright's Restaurant and Tavern in Avon, Porròn and Piña in Hartford, High George in New Haven and Square Peg Pizzeria in Glastonbury.
Small space? No problem
Ross encourages hosts to optimize the space they have, whether it's a college dorm or three-bedroom apartment. Designate a coffee table or space where you can set the food for everyone to serve themselves. Having an ample amount of chairs is also important so you don't have people standing or sitting on the floor.
As for decor, simple is better. Ross suggests buying small pumpkins, a table runner, candles and different herbs to give the room a Thanksgiving feel for under $20.
Dare to be different
While Friendsgiving is based off tradition, it's an opportunity to get as creative as you'd like.
"Friendsgiving is wonderful because you can be a bit more daring," Ward says. "You don't have family with their old-school thoughts on how it should be, so you won't feel as judged when you try something for the first time."
Turkey, stuffing, gravy, some kind of cranberry dish and a seasonal vegetable are musts for Thanksgiving-themed celebrations, but that doesn't mean you can't serve them with a twist, Anderson says. For example, he suggests making a savory bread pudding instead of traditional stuffing or roasting Brussels sprouts with soy sauce, maple syrup and lemon juice to add a different flavor combination to your plate.
Focus on the turkey …
… Or a plant-based main dish for our vegetarian and vegan friends.
Cooking a turkey is no easy feat and arguably the most stressful part of any Thanksgiving party.
Both Anderson and Ward recommend getting a fresh turkey from your local farm for better flavor. But if that isn't possible, a frozen turkey will do just fine as long as you give yourself enough time to properly thaw it. Ward says to put the turkey in the refrigerator three to four days before cooking to make sure it's completely defrosted.
When it comes to cooking a turkey, Anderson and Ward favor different techniques. Ward suggests brining — aka soaking — the turkey for 24 hours in salt, honey, garlic, black pepper corn and, his favorite, sage.
Tales from the 'side hustle generation': Meet the Connecticut millennials working multiple jobs to pay the bills »
Once the turkey has soaked up the flavor, Ward says it can be placed in the oven at 350 degrees for about three to four hours. Having a thermometer is vital when cooking a turkey the traditional way. It can help you determine the exact temperature of your dish and oven, as what it reads sometimes doesn't match. Ward encourages cooks to use the thermometer on the deepest part of the breast and side right up to the bone, as those areas take the longest to cook.
Anderson, on the other hand, likes to sous vide the main dish. Sous vide consists of placing your meat in a sealed bag and cooking it in a controlled temperature water bath of sorts.
"If you cut the turkey breast off the bone and you cook it sous vide, then you can impart all this flavor and cook it perfect every time. You won't have to be nervous about over-roasting it or anything like that," says Anderson.
For those who aren't a fan of turkey, Anderson and Ward suggest substituting a "meaty vegetable," such as king trumpet mushrooms, roasted cauliflower or seitan — a wheat gluten alternative similar to meat in appearance and texture when cooked.
Don't forget dessert
In order to enjoy dessert as much as possible, Anderson suggests buying mini versions of different options.
"At the end of a Friendsgiving meal, you want to eat dessert and there's often so many full-sized options," Anderson says. "If you can make or buy everything in smaller portions then people can eat a variety and not be completely destroyed with food."
While buying dessert may be easier, Ward encourages hosts to make apple cobbler — an easy, yet impressive, option.
"Getting some good apples from an orchard are great for a cobbler," Ward says. "If you don't know apples, you could go to Rogers Orchards, ask them what they recommend, buy two apples and get a cider doughnut while you're at it."
Make new traditions
This is a chance to step away from your families' traditions and make new ones. Make a new cocktail, play a card game or create a memento.
Ross suggests getting oil-based markers and a plain turkey tray. Your guests can sign the tray and each year it will be a reminder of all the friends who have attended.
If you're culinarily challenged, these venues have you covered
Several restaurants, bars and breweries across the state are hosting Friendsgiving events, so check these out instead of staying in:
This story was written for The Thread, The Courant's news source for Connecticut millennials, by millennials. You can sign up for The Thread newsletter at courant.com/newsletters.
Plan-it Vicki is the brainchild of Vicki Ross, an experienced Event Planner located in Avon, a suburb of Hartford, Connecticut. Vicki has created wonderful celebrations all over Connecticut, New York, and Massachusetts. She and her staff provide services for small, intimate dinner parties as well as weddings, and bar and bat mitzvahs.
For help with your next event contact Plan-it Vicki