I've done baseball-themed mitzvahs before, but this one was extra special. Maybe it was the mitzvah boy and his family, whom I adore, or the venue, which was lovely, or the way everything came together, but this party was a hit in every sense of the word!
Upon entering the lobby of the North House in Avon, CT, guests picked up their "tickets", each named a Yankees player, past and present, and a youngster who's bound to be in the lineup one day.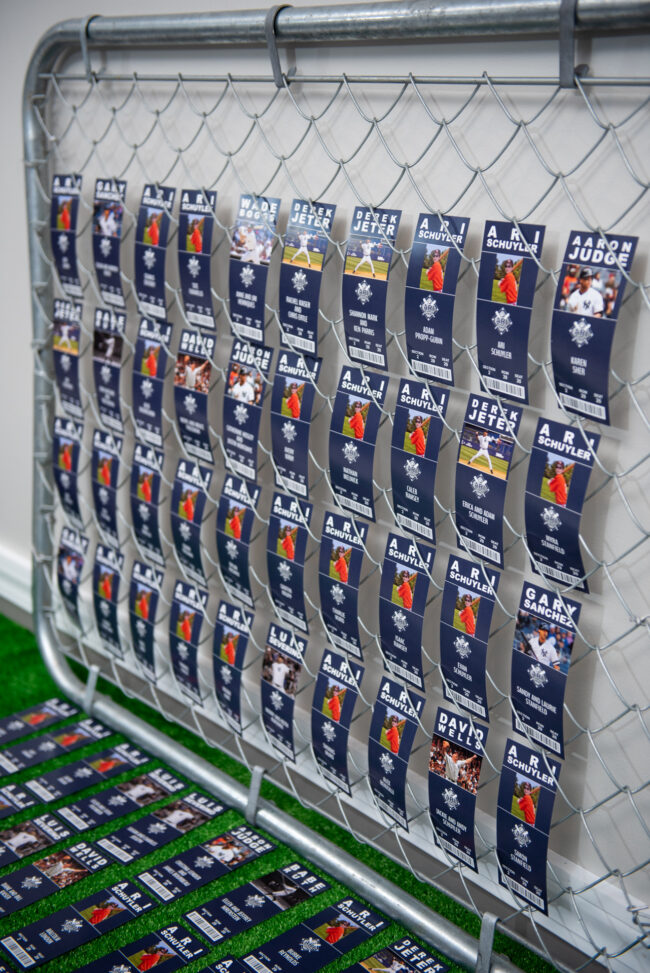 The sign-in board was a specially engraved Louisville Slugger and Yankees batting helmet, tastefully displayed on turf, adding another design element to the theme.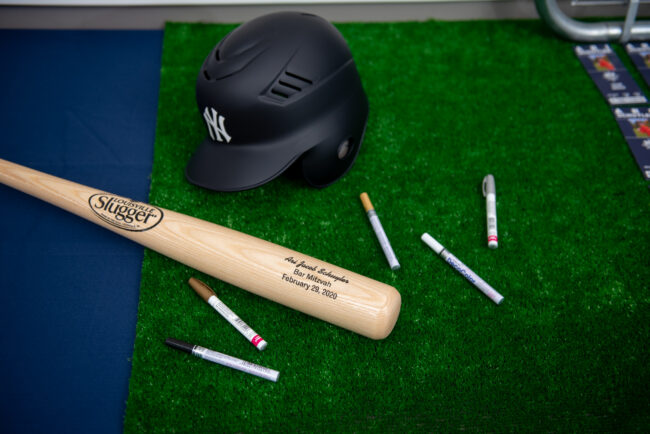 The card 'box', while not a box at all, was also specially designed to accent the evening's theme.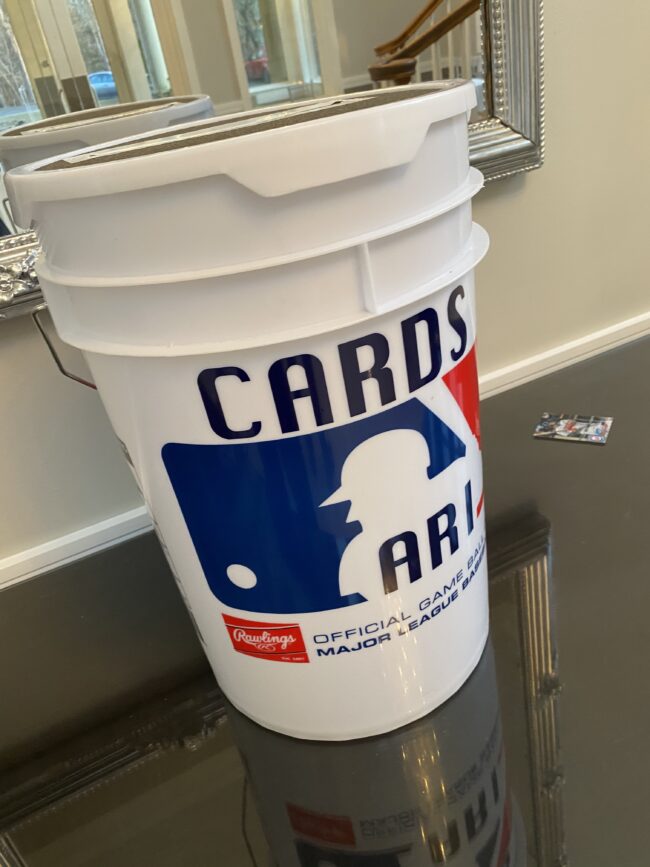 Trading cards were displayed on the cocktail tables over 'Yankees' blue linen. Got 'em, Need 'em, Got 'em, Need 'em.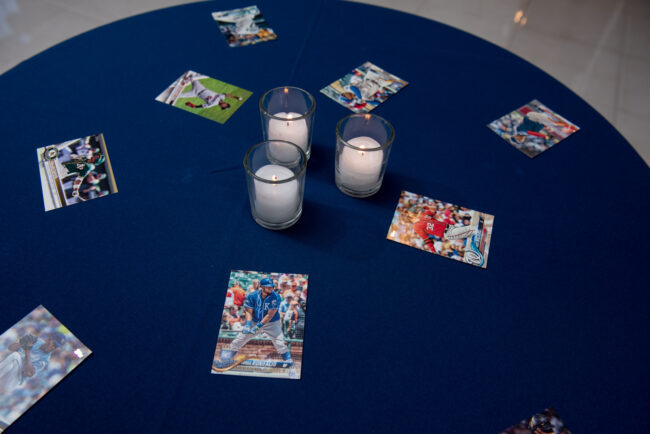 From Ruth to Judge, the centerpieces left no doubt as to which team the Mitzvah boy was root, root, rooting for.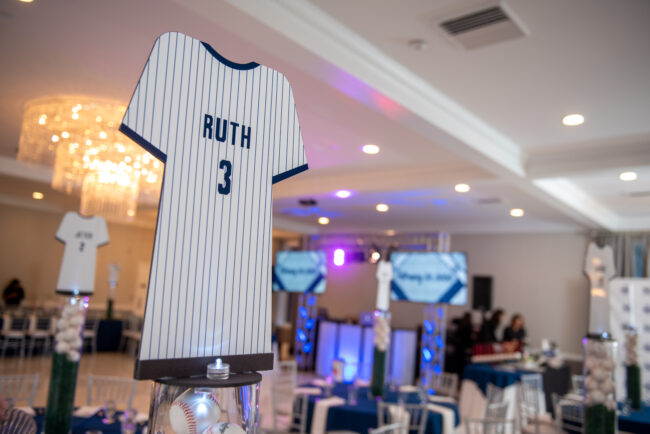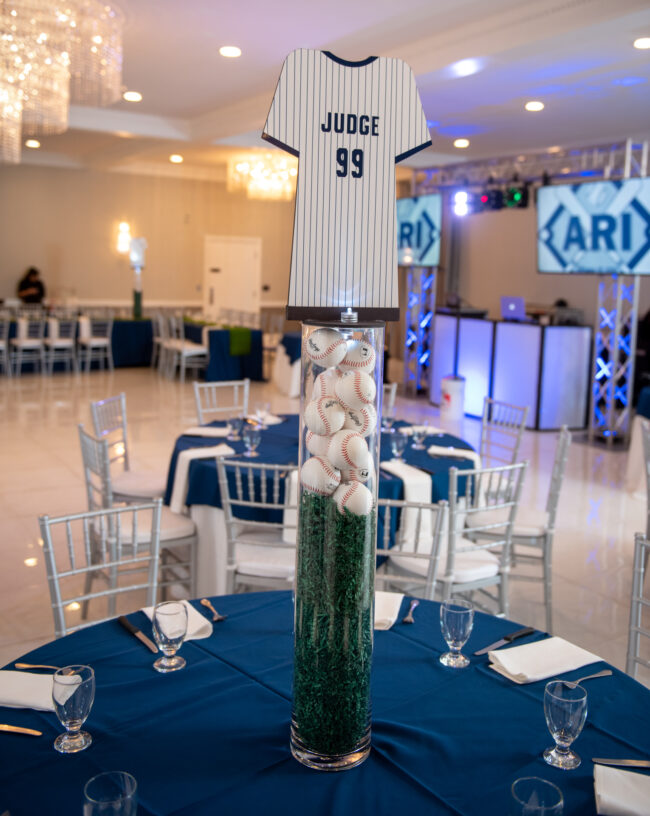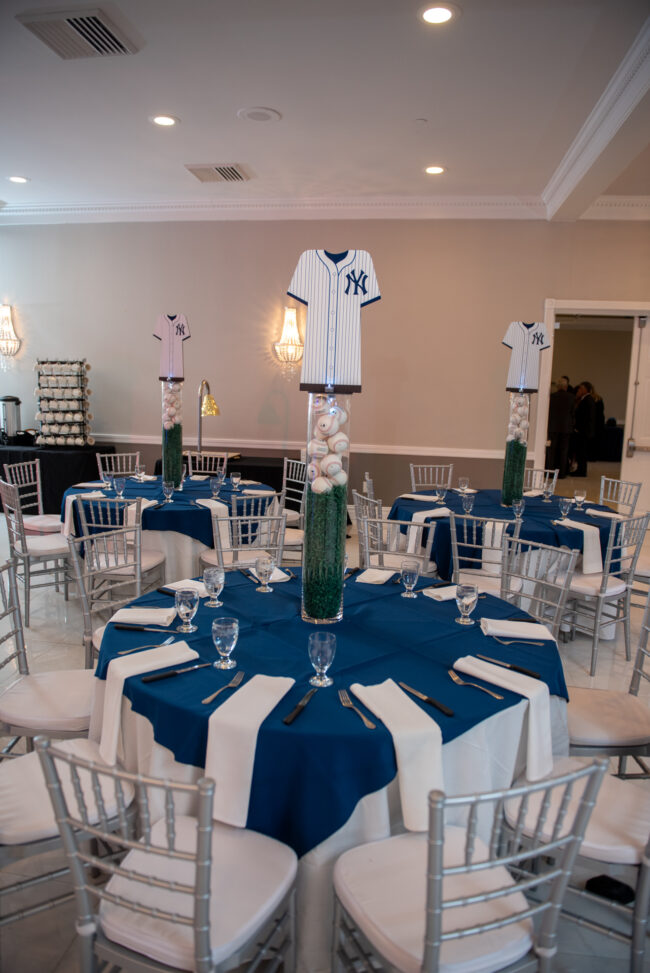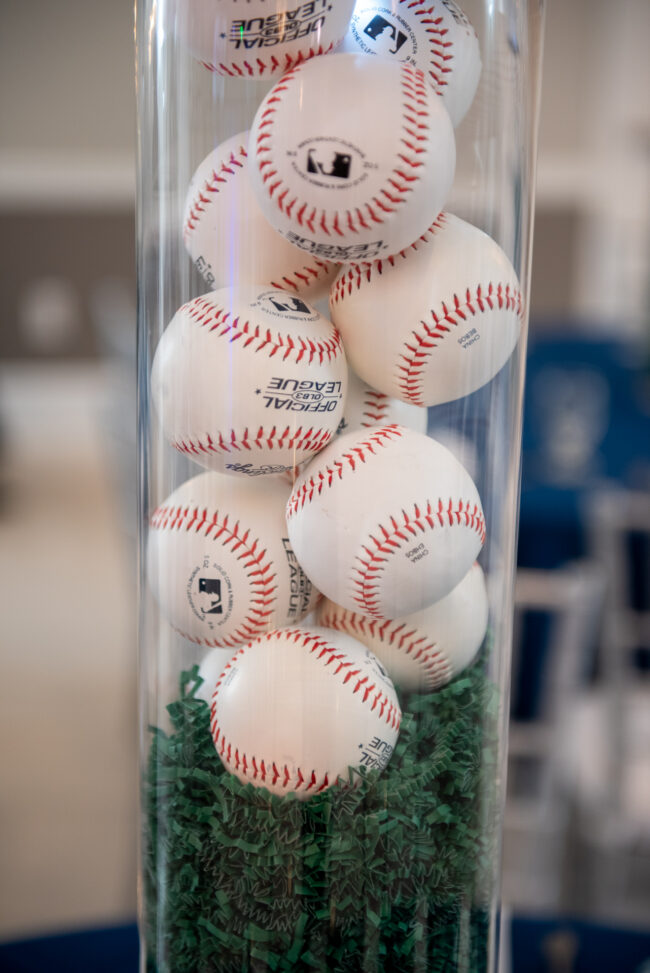 Young adults were seated at the VIP table, named in honor of the man of the hour.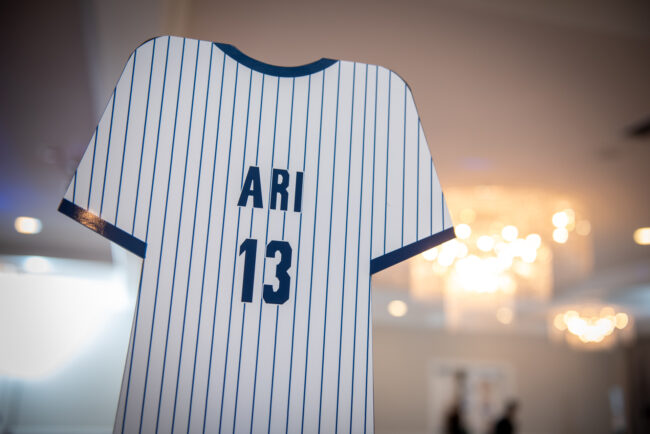 Everywhere you turned the amazing custom-designed logo was on display, including on the tv monitors…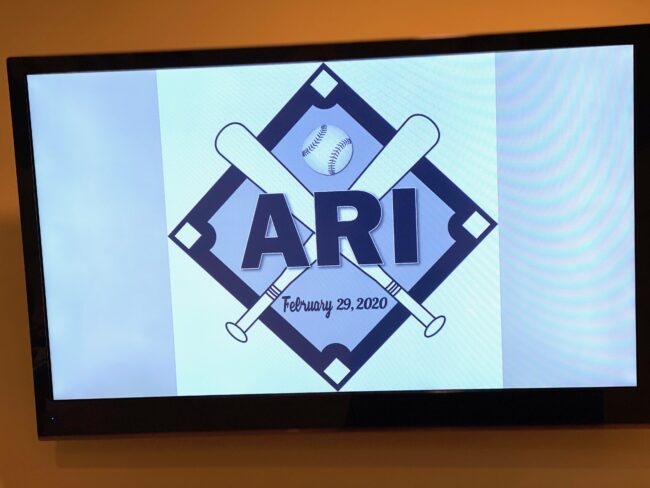 And interspersed on the step-and-repeat with the interlocking N-Y of the Bronx Bombers themselves.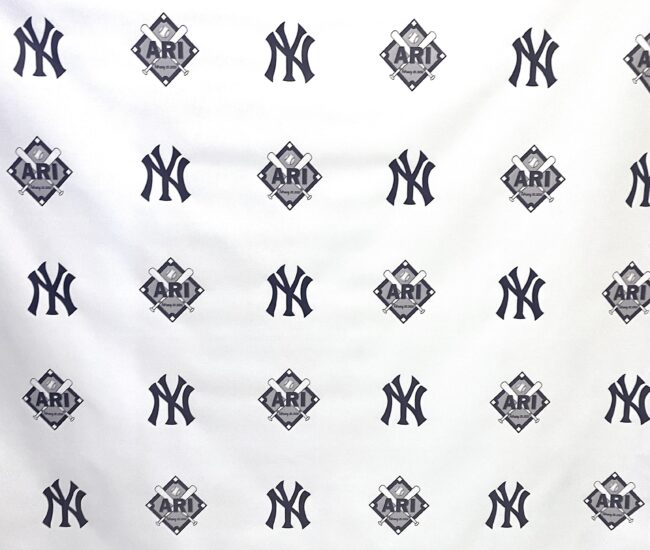 Leaving no stone unturned, even the dancing socks were displayed in a baseball kinda way (and I wouldn't have dared label the bucket with 'Sox')!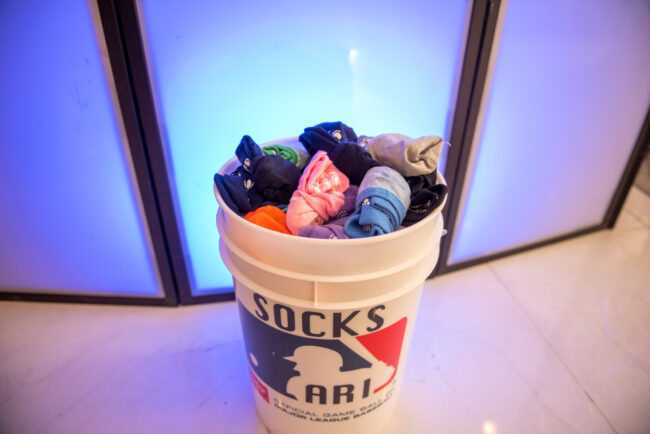 Those socks came in handy when partygoers started boogying, as was the case with a finely choreographed mother-son dance. It was a real showstopper!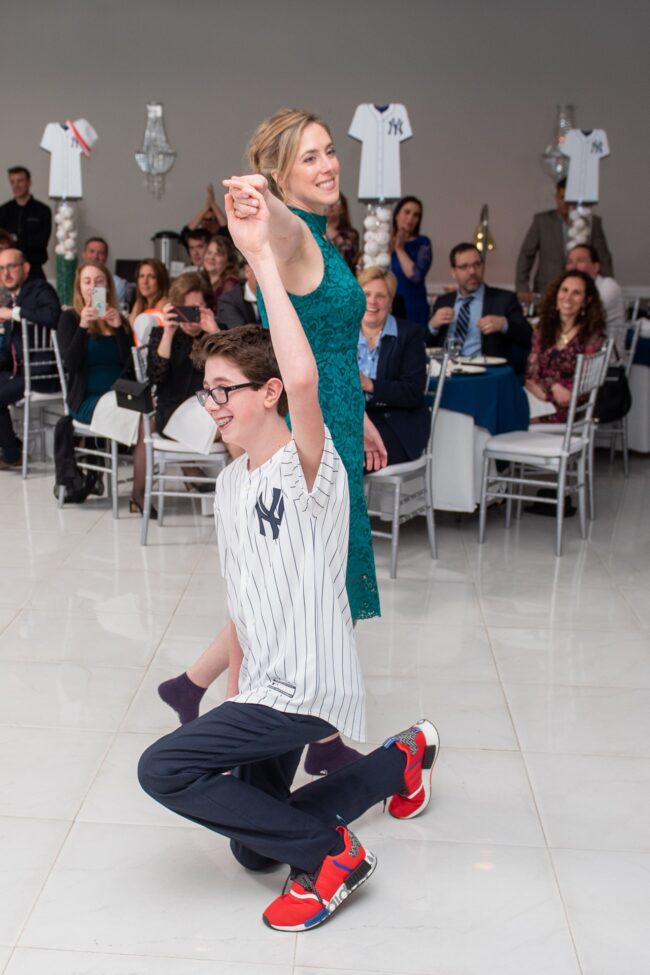 It was truly a family affair, as the mitzvah boy's father designed and built a wonderful candle lighting piece, which, of course, only served to further accentuate the party's theme.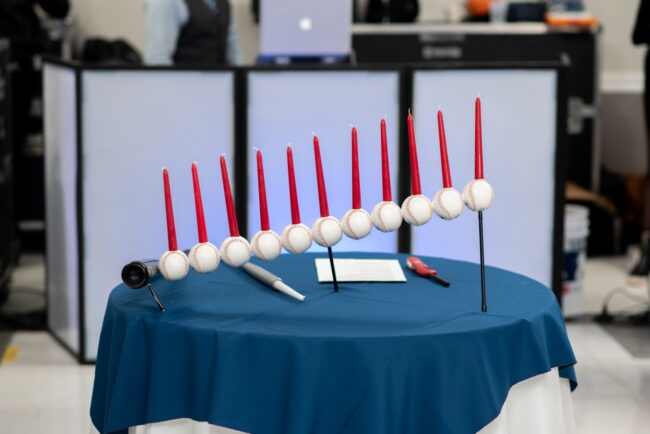 The montage, produced by Reel Video Group, was a big hit due in large part to the high-quality photos provided by the family.
Young adults were sent home with this great favor, perfect for some spring baseball (perhaps at Yankee Stadium).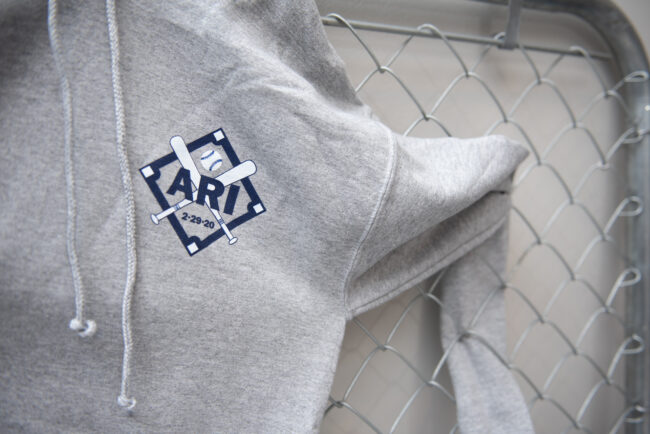 Mazel Tov Ari and family. Your party was a grand slam!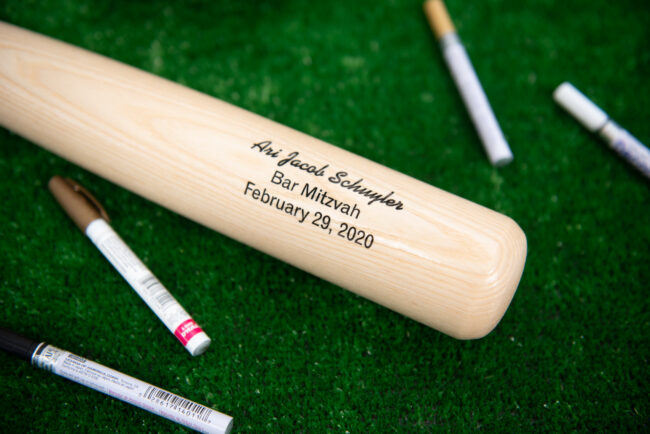 Easy! Done Enjoy!
Plan-it Vicki is the brainchild of Vicki Ross, an experienced Event Planner located in Avon, a suburb of Hartford, Connecticut. Vicki has created wonderful celebrations all over Connecticut, New York, and Massachusetts. She and her staff provide services for small, intimate dinner parties as well as weddings, and bar and bat mitzvahs.
For help with your next event contact Plan-it Vicki