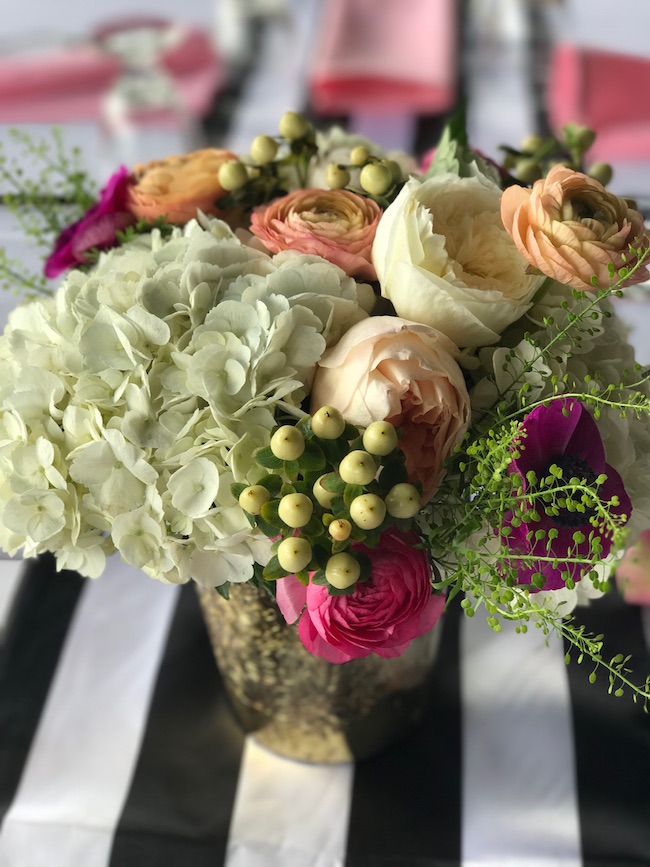 Planning a party has many different moving parts and details to figure out. You have to pick a
venue,food, entertainment, color scheme, invitations, centerpieces, and so on. Making it a surprise
adds even another layer. I was planning this beautiful, special party for someone I have never met
(the birthday girl) and had to rely on others to help create a party she would adore. I was so lucky
have had John (the birthday girl's husband) leading the way, and with his help and that of her very
creative friends, a uniquely special occasion was created that fit the guest of honor to a T.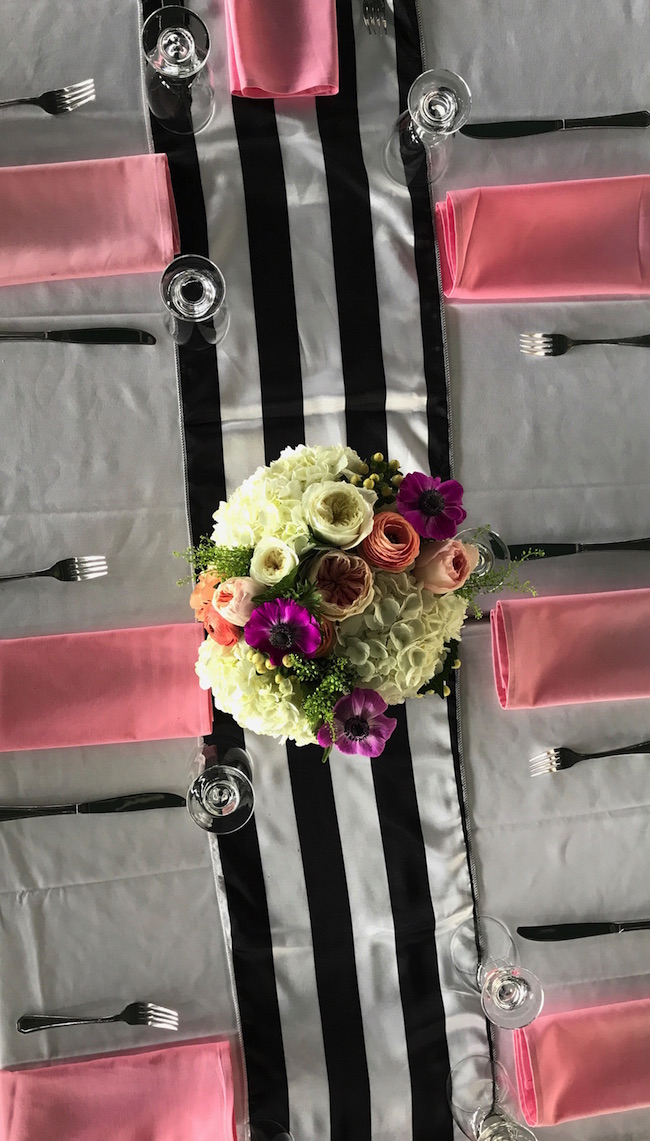 Flowers were, I think, the most important decor element used for this party. I was told the guest
of honor loves flowers and I was so lucky to have had these beautiful centerpieces made by
Alyson Keller of Belle Bouquet.
Everywhere you looked were the most beautiful arrangements.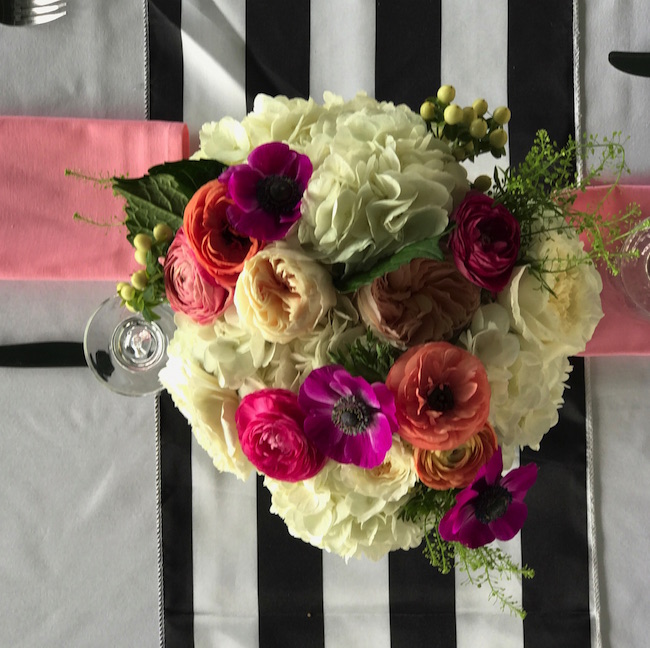 As guests arrived, trying to make it in time for the big surprise, they were greeted by a table sign
with the theme of the party "40 Years Loved".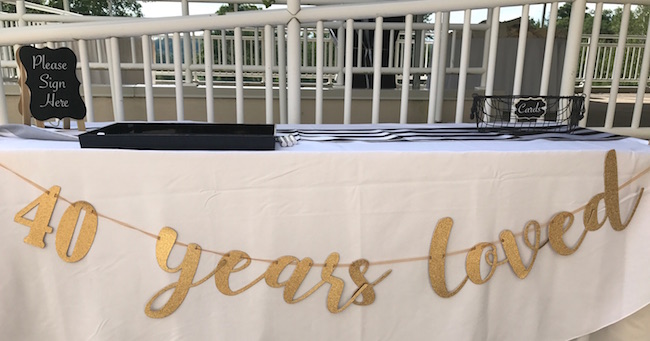 On the entrance table was a place to put cards and gifts.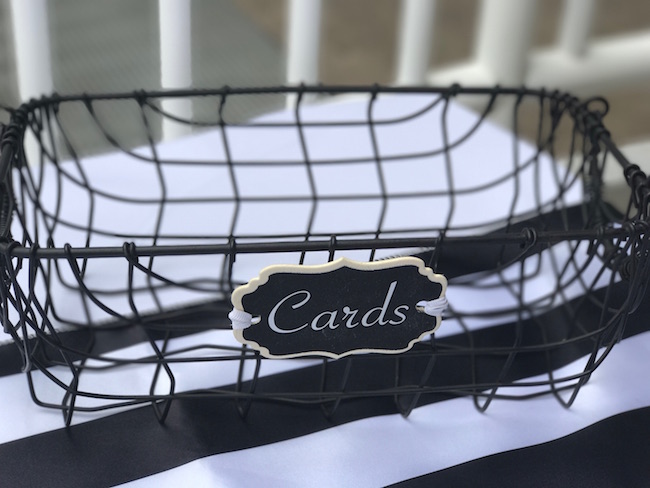 Rather than a guest book or sign-in board, guests could leave a note for the birthday girl, Cara,
by writing a message on a black lacquered tray with silver, white or gold oil based sharpies. After
the party, every time the the guest of honor uses this tray she can think of all of the wonderful
people in her life.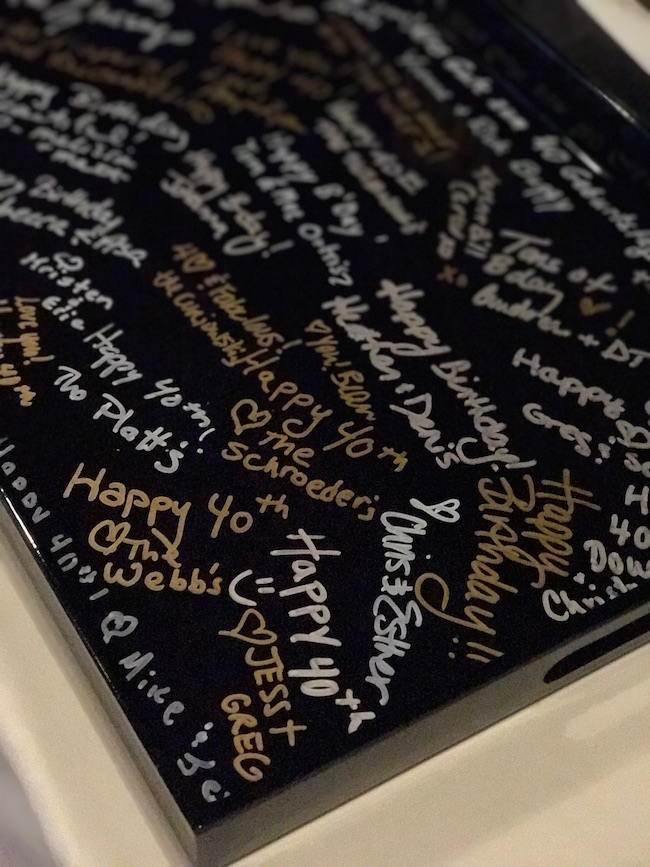 As we were waiting for Cara to arrive the weather began to turn ugly.  A storm was coming. We
were on the deck at the Golf Club of Avon and I had to quickly make sure things were out of  harm's
way in case of rain. The birthday girl arrived…everyone yelled "surprise" and the celebration began.
It did rain briefly but as soon as the clouds parted there was the most beautiful sunset. It was a
perfect summer night.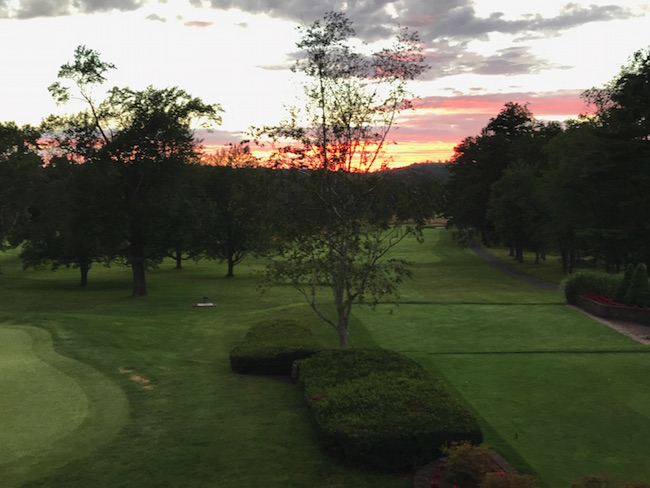 The food was just fantastic at the Golf Club of Avon and the service was just top notch.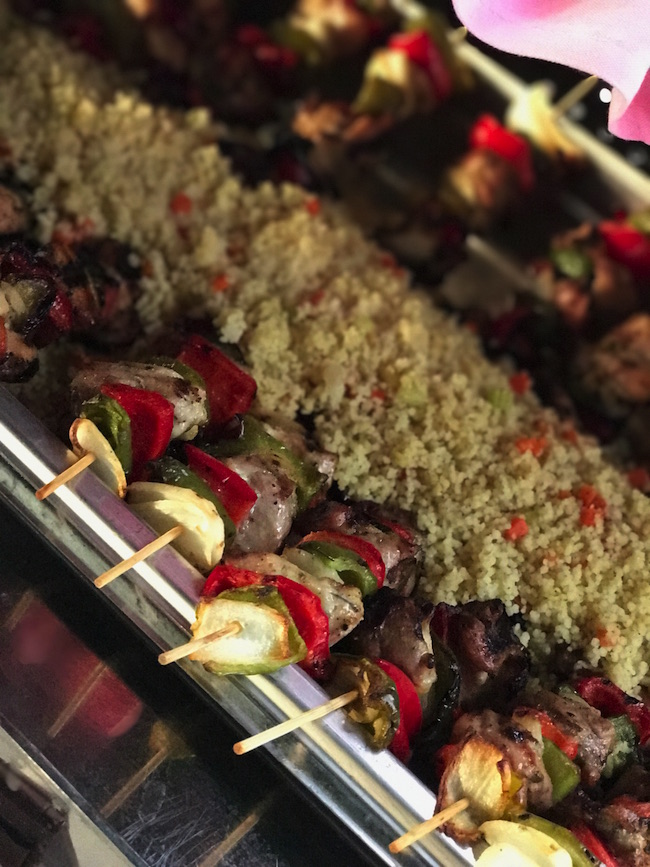 I just love working parties at this venue!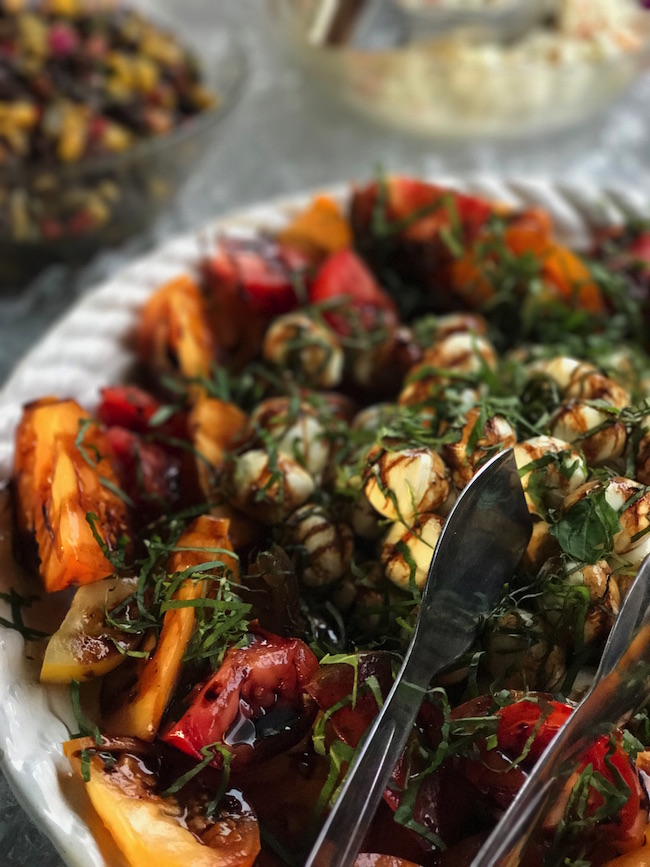 We created a photo montage and the guests got a kick out of it. They got to look at photos of the
guest of honor from childhood to present day. After the montage played there was not a dry eye
in the joint when John made the most beautiful speech to his wife.  
And finally it was cake time. The most perfect cake by LizMar Sweets was on display and it went
beautifully with the flower centerpieces and black and white striped decor.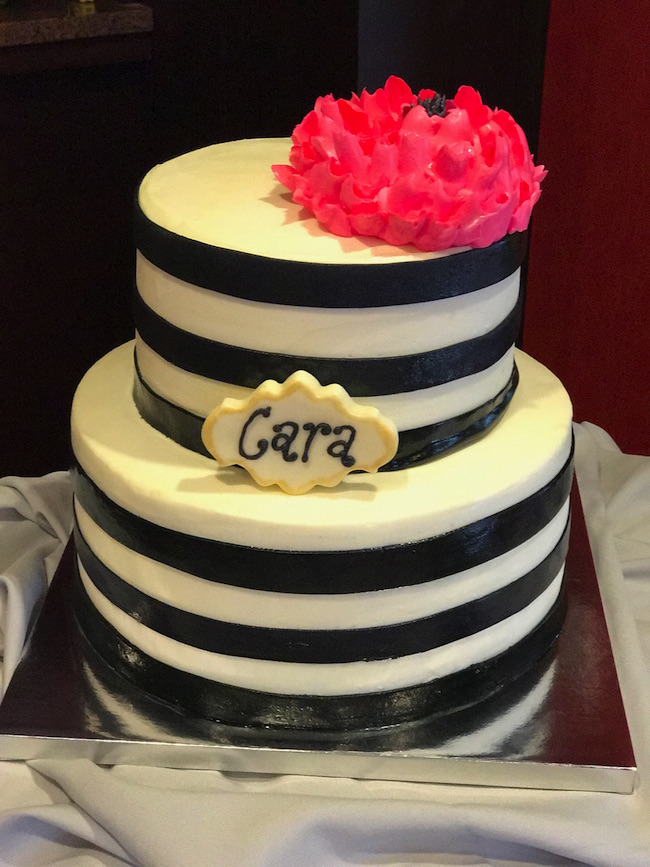 I truly enjoyed working to make this day special for the birthday girl and I hope I helped create
an evening that she will remember for many years. Happy Birthday Cara!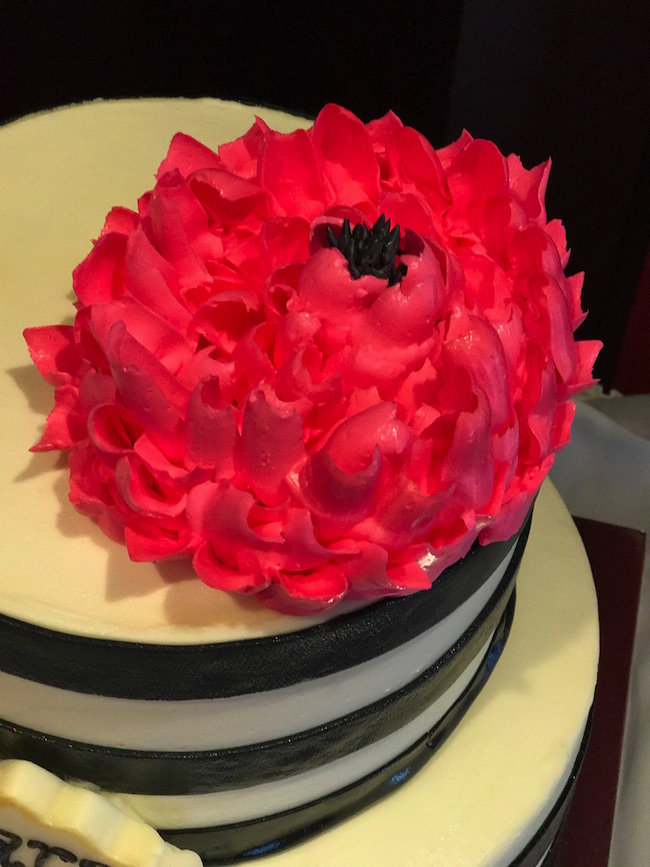 Easy Done! Enjoy!
Plan-it Vicki is the brainchild of Vicki Ross, an experienced Event Planner located in Avon, a suburb of Hartford, Connecticut. Vicki has created wonderful celebrations all over Connecticut, New York, and Massachusetts. She and her staff provide services for small, intimate dinner parties as well as weddings, and bar and bat mitzvahs.

For help with your next event contact Plan-it Vicki