I was very lucky to be a part of planning this fantastic Bar Mitzvah for this sweet and very talented
young man. He is an accomplished gymnast and I tried to integrate his interests in the theme of
his party.
As guests arrived at Tunxis Pavilion in Farmington, Connecticut lights sparkled everywhere.
The weather could not have been more perfect. There was a gift box for envelopes that had a
little sparkle too where guests could leave a gift.
A large photo of the talented gymnast was there for family and friends to leave a note or just sign
their name. This will be a nice keepsake for the bar mitzvah boy at the end of the party.
Upon arrival, guests picked up their place card medals indicating which 'event' they were part of,
or in the case of the younger set, that they were part of the USA Gymnastics Team, captained, of
course, by the guest of honor.
There were two giant tables in one special area lining the dance floor for just for Elijah's Friends.
They were the "USA Gymnastics Team".
At the head table were the Olympic Judges, of which Elijah's parents were 'keeping score'.
The other tables were named after different gymnastics disciplines, all of which Elijah has mastered.
Around the venue were wonderful drink stations including a beautiful sangria station for the adults.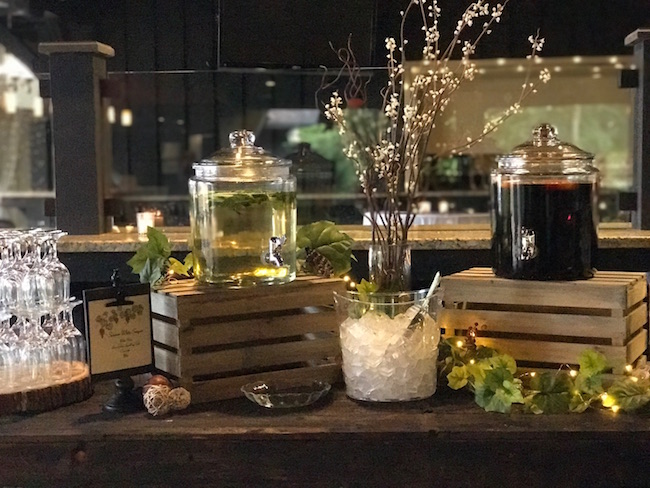 …and the most perfect lemonade stand for the kids (and adults too).
A fabulous cake, designed by Julie Armstrong of LizMar Sweets, matched the centerpieces
and was used for the beautiful candle lighting ceremony.
A touching photo montage was made for the man of the hour to help celebrate this special day and
show off some of his impressive gymnastics moves.
At the end of the evening Elijah's friends picked up some yummy candy to go. They looked so good a
few adults snuck out with a jar or two!
Mazel Tov Elijah and Family! It was just a pleasure to get to know you all and I am so proud to have
helped make this day special for this amazing young man!
Easy! Done! Enjoy!