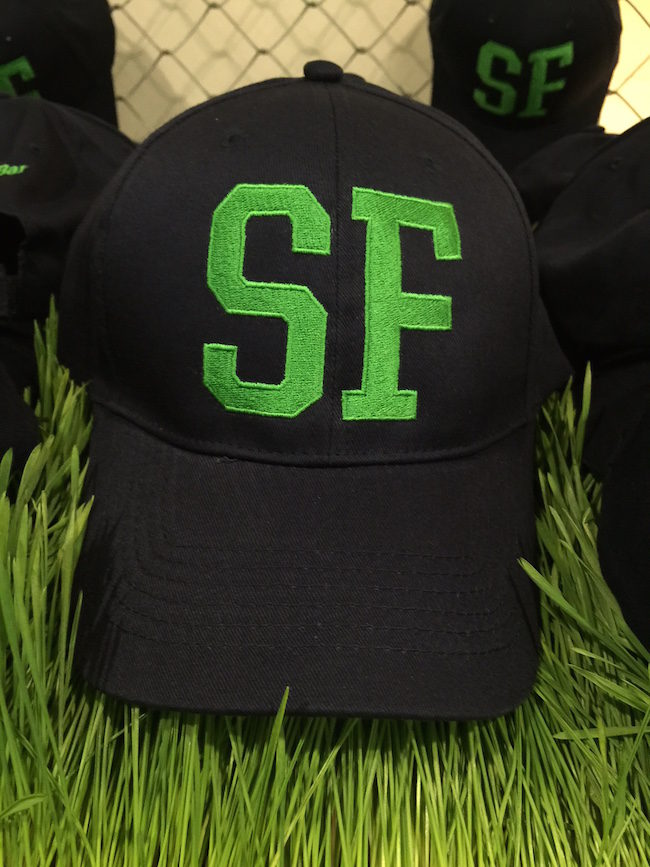 Right after the morning service the guests walked through the lobby of the temple and were
greeted with beautiful flowers and a fresh color scheme of navy, lime green, and white. Everything
looked and felt like spring.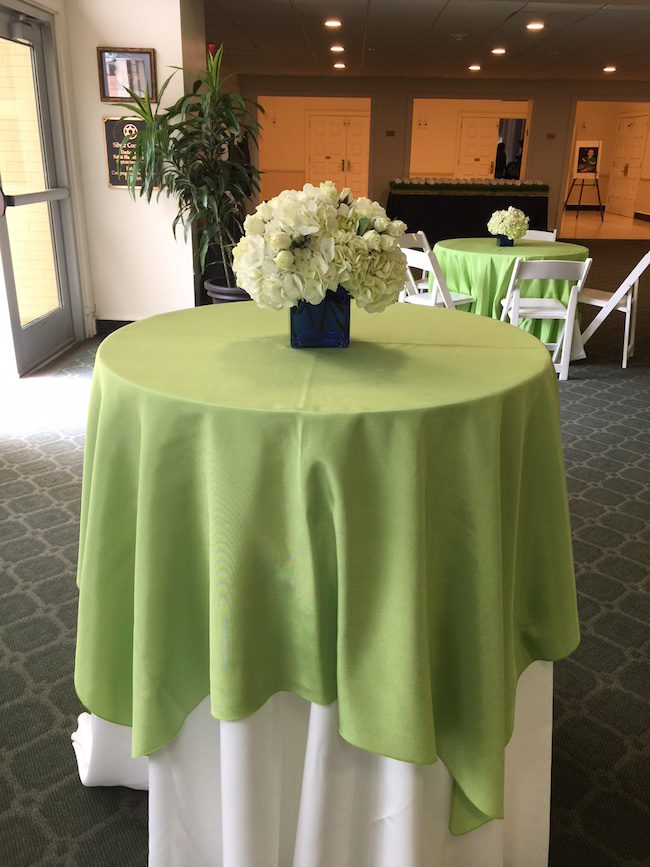 As the partygoers walked toward the ballroom they picked up their individual place cards which
were cutouts in the shape of baseballs, and dosplayed in real grass. Again spring was in the air
but now America's favorite pastime was showcased.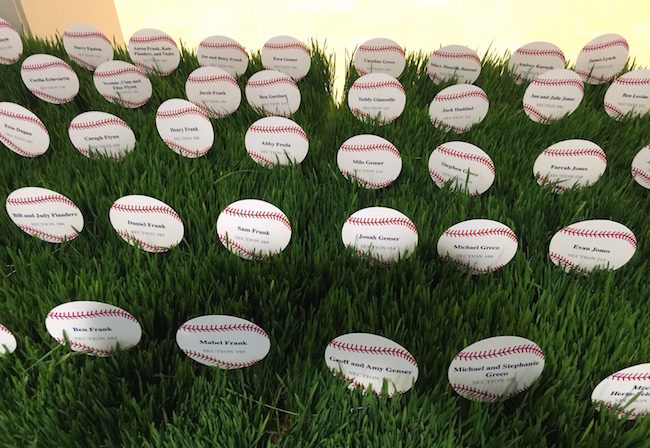 On each place card was the guest's name and where they were sitting.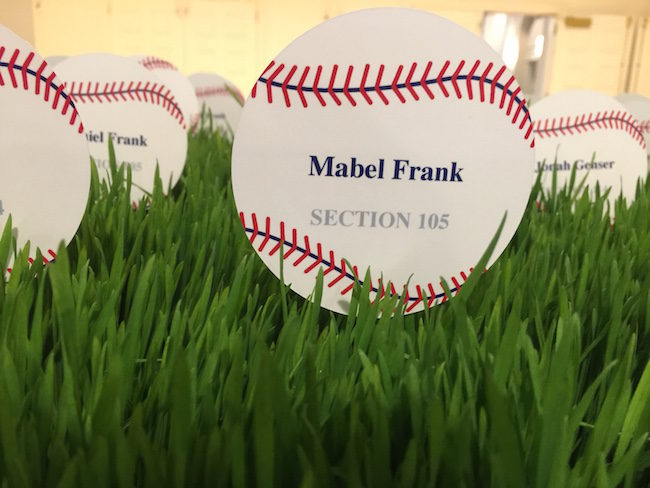 Each table was numbered like a section at a baseball stadium. Rather than 'table one' or 'table two'
they were labeled 'section 101' or 'section 102', etc.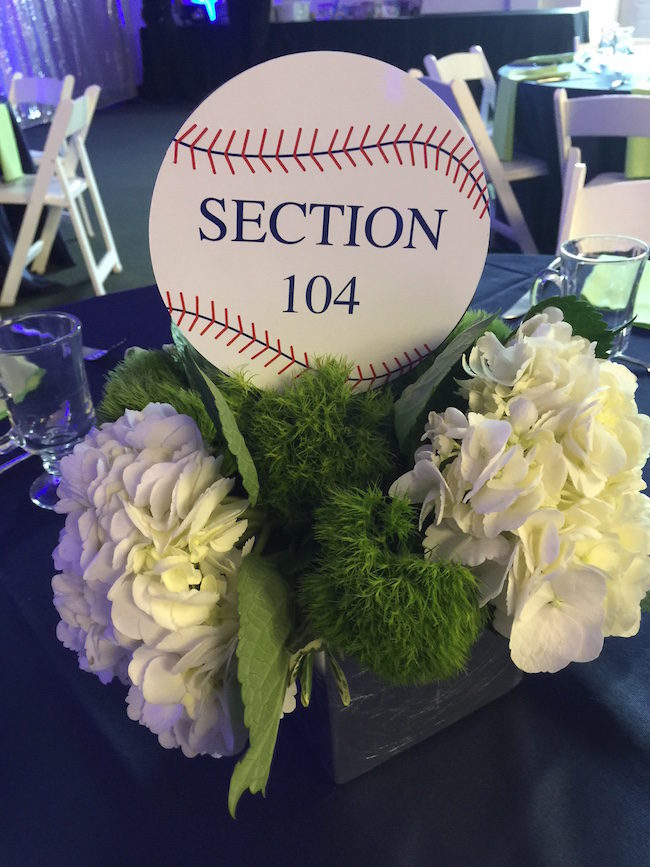 The crisp colors of spring were everywhere, including the linens featuring bright green napkins on
navy table cloths, and the flowers had clean, bright shades of white and green to match the color
scheme.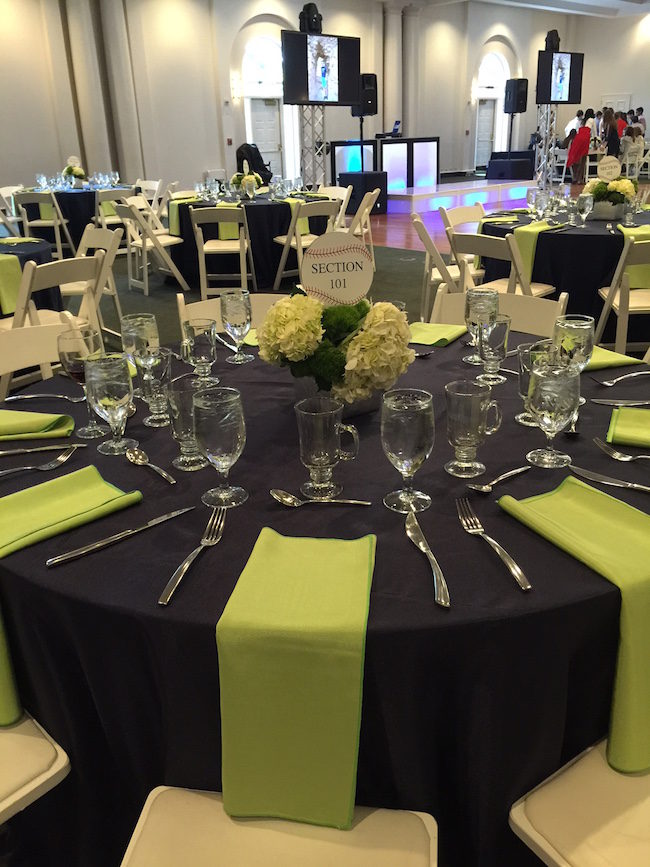 There was a special place to put envelopes that matched perfectly with the spring/baseball theme.
Just a little added touch to complete the look.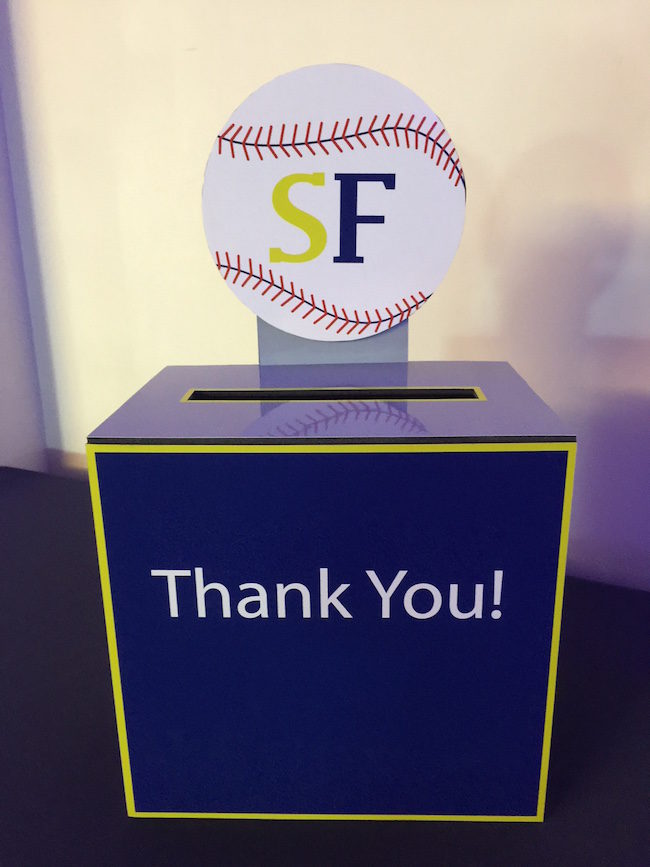 The fantastic food was created by Max Catering. Everything tasted wonderful, looked delicious,
and the staff was second to none!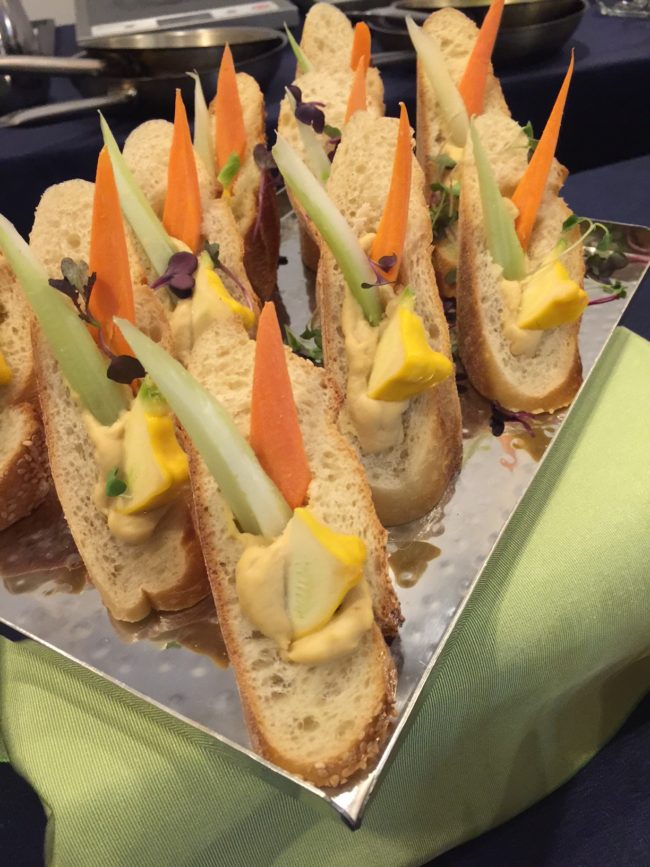 At the kids soda bar were cute straws decorated in the color theme, holding little pennants with
the Bar Mitzvah boy's initials.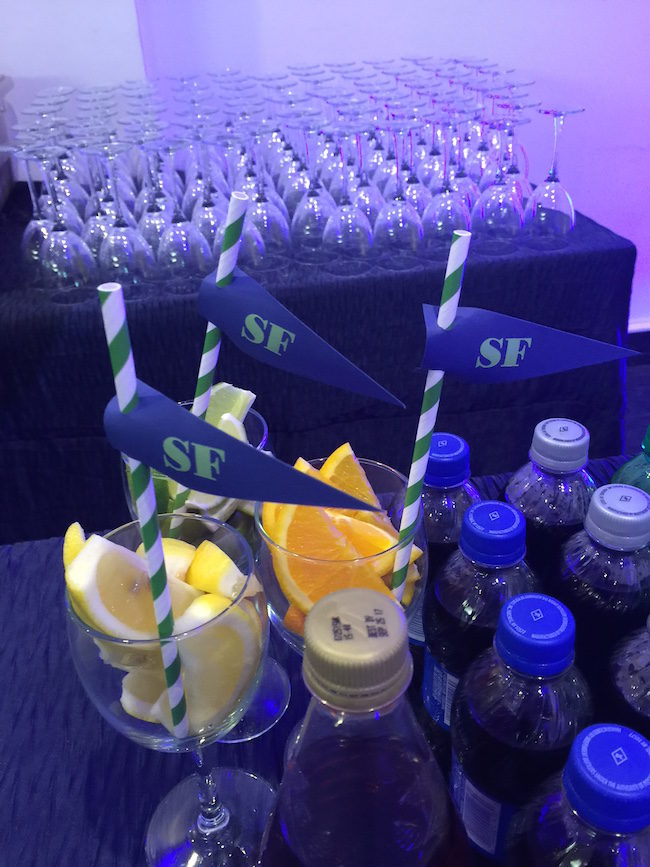 The DJ entertained all ages and did a nice job creating a cool glow with special lighting.

There was a cute baby photo of the Bar Mitzvah boy which guests were able to sign and leave a little
note or two. Even the photo matched the decor.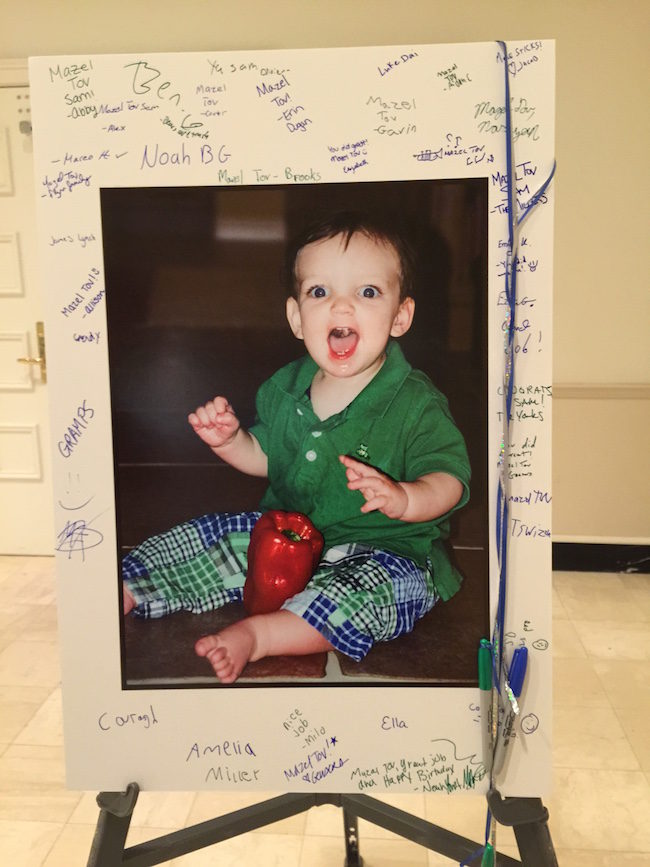 The desserts were splendid. Max Catering staff walked around with various ice cream cookie
sandwiches, push-pops and mini ice cream cones accompanied on a table by a yummy
assortment of Nora Cupcakes offerings that truly wowed the crowd.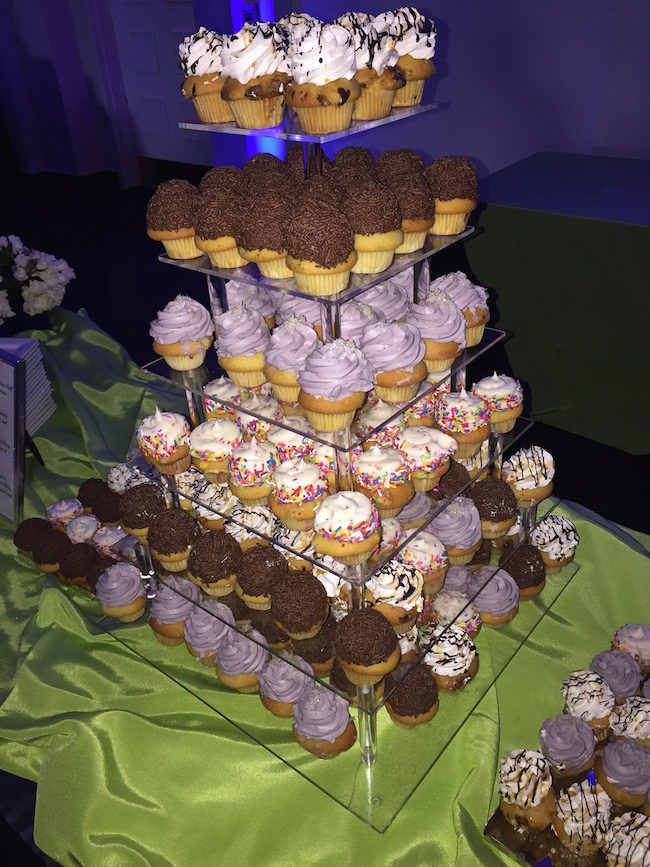 As people got a little tired from dancing, fun socks were available to use which incorporated the
sports feel and look.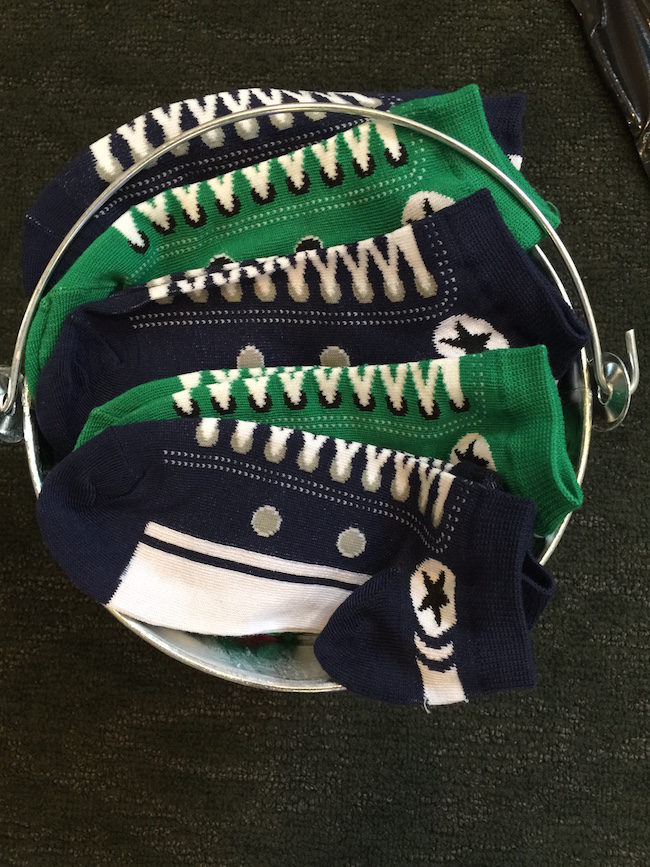 As the party came to a close the Bar Mitzvah boy's friends left with baseball hats featuring
a punny, but memorable phrase "Raising the Bar," which is exactly what Sam did on his big day.
Mazel Tov!
Easy! Done! Enjoy!
Plan-it Vicki is the brainchild of Vicki Ross, an experienced Event Planner located in Avon, a suburb of Hartford, Connecticut. Vicki has created wonderful celebrations all over Connecticut, New York, and Massachusetts. She and her staff provide services for small, intimate dinner parties as well as weddings, and bar and bat mitzvahs.
For help with your next event contact Plan-it Vicki